Get your pumpkin fix with these vegan Pumpkin Spice, Cranberry, and Pistachio Morning Cookies from The Vegan 8 by Brandi Doming!

The Vegan 8
From the "jokes" I see on social media, it seems that most people think that healthy food is boring and bland. While, yes, some healthy food can be a little on the tasteless side, it's totally possible to make meals that are both nutritious and delicious. And Brandi Doming is here to show us how with her new cookbook The Vegan 8.

Eight Ingredients or Fewer
As the name suggests, the recipes in Brandi's cookbook can all be made with eight ingredients or fewer. That "eight ingredients" doesn't count salt, pepper, and water, but those are all things that everyone has in their kitchen anyway. All of the recipes are vegan, of course. Most are oil-free and gluten-free, and there are nut-free options as well, so the book the book is suitable for those with various dietary restrictions.
If you're new to healthy vegan cooking, Brandi begins The Vegan 8 with just about everything you need to know about getting started. There are tips for baking, lists of ingredients that might be unfamiliar to you, and information on equipment that might be handy to have on hand in your kitchen.

Classics and Comfort Food
If you're a vegan cooking pro, you can skip right ahead to the recipes. These aren't boring dishes. Brandi focuses on veganized versions of classics and comfort food, making it easy for vegan newbies to transition their diets.
This isn't a book full of recipes for kale salads and green smoothies. You won't find crazy "superfoods" listed in the ingredients, either. These dishes are made with ingredients that can easily be found at any grocery store, and they'll appeal to everyone. I don't know anyone who wouldn't be happy with a plate of Baked Mac 'N' Cheese, a bowl of Ultimate Broccoli-Cheese Soup. or a few Crowd-Pleasing Brownies!

The Chapters in The Vegan 8 include:
The Vegan 8 Kitchen
Breakfast
Scrumptious Snacks & Appetizers
Time-Crunch Lunches
Sauces & Dressings
Easy Entrées
Comforting Soups & Stews
Sides & Dips
Crowd-Pleasing Desserts
Staples
If you're looking for healthy and easy-to-make comfort food classics, The Vegan 8 is the book for you!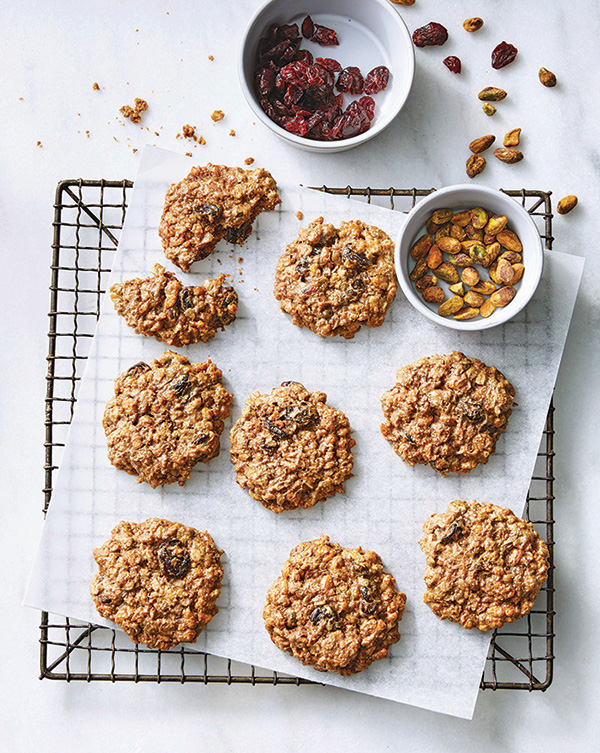 Pumpkin Spice, Cranberry, and Pistachio Morning Cookies
This may sound a bit crazy, but I enjoyed these cookies every bit as much as the insanely indulgent cookies from the dessert chapter in this book. That is hard to believe considering chocolate is nowhere in sight. I was moaning happily while eating them. They are wonderfully chewy with a moist and fudgy center and addicting pumpkin spices.
Ingredients
1⁄2 cup (128g) roasted creamy almond butter
6 tablespoons (120g) pure maple syrup
1 tablespoon (8g) ground flaxseed
1 tablespoon (9g) pumpkin pie spice
1⁄4 teaspoon (2g) fine salt
1⁄2 cup (50g) gluten-free old-fashioned oats, not instant
1⁄2 cup (23g) brown rice crisp cereal
1⁄4 cup (38g) dried cranberries or cherries
1⁄4 cup (38g) unsalted pistachios
Instructions
Preheat the oven to 350°F (177°C). Line a sheet pan with parchment paper.
Add the almond butter, syrup, flaxseed, pumpkin pie spice, and salt to a large bowl, and stir. Add the oats, cereal, cranberries, and pistachios, and stir for a couple of minutes until incorporated and the batter gets very thick and sticky.
Using 2 tablespoons worth of batter, roll into tight balls and place them on the prepared pan about 2 inches apart. I fit 9 on one pan. The batter will be very sticky, so wet your fingertips to help, if needed. Do your best to keep the balls pieced together.
Use a small square piece of parchment paper to flatten each ball to about 1⁄2 inch thick, pushing any loose pieces together. They are fragile at this step but will firm up beautifully as they bake.
Bake at 350°F for 10 minutes or until golden brown on top. Leave on the pan to cool for 10 minutes, and then transfer to a wire rack to cool completely. Now, taste one and tell me how freaking delicious they are! Store them in a tight container so they stay moist. They will lose their crispiness by the next day but will still be chewy and delicious.
Tip
To make these nut free, sub the almond butter with sunflower seed butter if you don't mind a strong sunflower seed butter taste. Leave out the pistachios or replace with pumpkin seeds.
Notes
Recipe reprinted with permission from
The Vegan 8
by Brandi Doming.
Other recipes from The Vegan 8 include:
Photographer: Jennifer Causey, Prop Stylist: Christine Keely, Food Stylist: Anna Hampton
Review reprinted with permission from Dianne's Vegan Kitchen