Pecan Chai Spice Bars
Not only does "pecan chai" sound like "pecan pie," but these bars taste a little like pecan pie—with some Eastern flair added. Brew your chai tea long and strong to ensure that you can taste it in the final product. You can either eat these straight out of the freezer, when they'll be solid enough to eat out-of-hand, or enjoy them from the refrigerator, when the buttery topping will be pleasantly gooey and melty.
Ingredients:
CRUST
1 cup dry pecans
1/2 cup coconut flour
Big pinch of sea salt
1/4 cup strong brewed chai tea
2 tablespoons maple syrup
FILLING AND TOPPING
1/2 cup cashew butter
1/4 cup strong brewed chai tea
3 tablespoons maple syrup Pinch of sea salt
3/4 cup dry pecans, chopped if desired
Preparation:
Crust: Combine the pecans, coconut flour, and salt in a food processor and pulse until the nuts are finely ground. Add the chai tea and pulse to combine. Add the maple syrup and pulse until the mixture is combined and crumbly. You can add water, a teaspoon at a time, if needed to achieve the desired consistency. Press the mixture firmly and evenly into an 8-inch square baking pan lined with plastic wrap for easy removal, if desired.
Filling: Combine the cashew butter, chai tea, maple syrup, and salt in a medium bowl. Stir vigorously to combine. Pour the filling over the crust and scatter the (whole or chopped) pecans on top. Place the pan in the freezer to chill for at least 2 hours before cutting and serving.
Store the bars in an airtight container in the refrigerator for up to 1 week or in the freezer for up to 1 month.
Yield 16 servings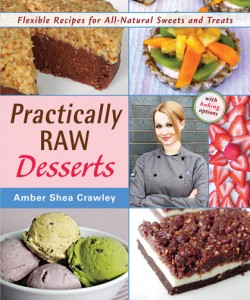 From Practically Raw Desserts by Amber Shea Crawley. ©2013 Amber Shea Crawley. Used by permission from Vegan Heritage Press.