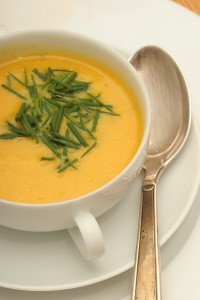 Soup is a dish that I really love – so warm and comfortable yet light and healthy. In the evening they are quick to prepare, even at the last minute and with only few ingredients, but they can also be a tasteful main dish to be served if you have guests for dinner.
Each soup combines a different spice, a different type of bean, and a different root vegetable.
Cream of broccoli -> black pepper and leek + black beans
Cream of zucchini -> parsley and spring onion + cannellini beans
Cream of pumpkin soup -> cinnamon or red curry and white onion + lentils
Cream of cauliflower -> nutmeg and garlic + "white eye" beans
Cream of potato -> rosemary and red onions + peas
Tomato soup -> oregano and garlic + chickpeas
Universal recipe for a simple soup – about 4 servings
Place 1 liter of lightly salted water or vegetable broth in a pot, stir in the vegetables cut into small pieces, and boil for 25-40 minutes or until the vegetables are tender (depending on the type of vegetables and on the finesse of the cut). Blend everything with an immersion blender directly in the pot, add water if the cream is too dense or let it evaporate a little 'if too runny. Finally add the spices and the cooked legumes, and mix well. Serve hot with a sprinkle of nutritional yeast or gomasium.
Notes:
The tomato has a very short cooking time, 10-15 minutes will be enough;
The lentils and split peas can be added directly to the soup still dry at the beginning of cooking because, unlike other vegetables, are cooked in 30-35 minutes. Also frozen peas in 10 min. are cooked;
As legumes you can use canned ones or buy the dry ones and cook them separately from the soup, in boiling water, after soaking them in water for 8-12 hours (read for more–> http: //easyveganblog.blogspot.it/2014/06/i-legumi-secchi-per-liberarsi-dalle.html)
Other recipes of simple vegan soups from Easy Vegan:
Hope you enjoy the recipes! Try to have a soup party with your friends now!
Original post in italian: http://easyveganblog.blogspot.com/2015/03/ogni-zuppa-la-sua-6-semplici-zuppe-6.html