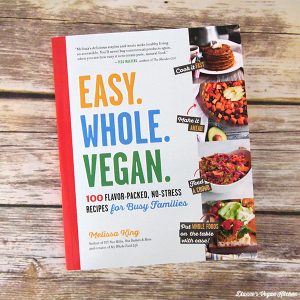 One of the most common complaints that I hear from my heath coaching clients is that cooking takes too long. They're often uninspired in the kitchen after a long day at work, and they just want to get something on the table. Thankfully, Melissa King is now here to help with her new cookbook Easy. Whole. Vegan.
Easy. Whole. Vegan. 100 Flavor-Packed, No-Stress Recipes for Busy Families is geared towards families, but any busy individual will benefit from it. The recipes take the guesswork out of meal preparing, ensuring that a home cooked, whole foods, plant-base meal is just minutes away. Most of these dishes can be prepared in less time that it takes to get take-out, and they're so flavorful that you might just forget that they're good for you, too.
The book begins with a list of common whole foods vegan pantry items for those that are new to plant-based cooking. There's also a list of equipment that's handy to have on hand. Melissa shares tips on how to save time and money in the kitchen, and she also has some advice on how to handle picky eaters.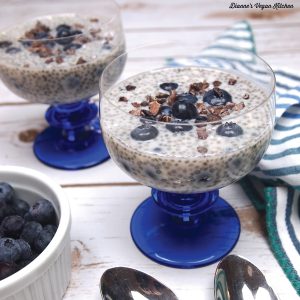 The recipes in Easy. Whole. Vegan. are organized by need, rather than meal type. That way, if you're in a hurry, you can head straight to the Quick chapter, where you'll find quick meals that can be made in 30 minutes or less. Here you'll find fast breakfasts, easy lunches, tasty dinners, and even some speedy snacks.
I'm a big fan of using slow cookers, especially for those who work outside the home and get home later in the evening. Just pop everything in your crockpot before work, and a hot meal is waiting for you when you get home! You'll find plenty of slow cooker recipes in the Easy chapter, including breakfasts, soups, and stews.
I'm also an advocate of cooking once and eating two or three times. I love making a big meal and having enough leftovers to last for another meal or two later in the week. You'll find plenty of refrigerator-friendly meals in the Make Ahead chapter.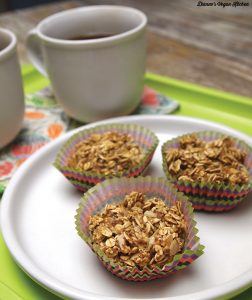 If you have friends coming over, you can find something to please everyone in the Entertain chapter. If you're in the mood for a smoothie, you'll find what you're looking for in the Pick-Me-Ups chapter. If you want a tasty dressing for your salad or a jam for your toast, you'll find those recipes and more in Make It Yummy.
I've made quite a few recipes from Easy. Whole. Vegan. Each one was quick and easy to make, and most used ingredients that I already had on hand in the pantry. I prepared Blueberries & Cream Chia Pudding before bed, and we had a deliciously fresh breakfast waiting for us in the morning. There was enough for a few servings each, and it also did double duty as dessert. The Kale and Wild Rice Salad made for a tasty lunch, and it was perfect for a chilly fall afternoon. Chili Mac and Cheese was the perfect cozy antidote for a cold and rainy day. The chickpea-based dough for the Flourless Snickerdoodle Bars was so good I almost ate it all straight out of the bowl without cooking it! I baked Maple Vanilla Baked Oatmeal Squares in a muffin tin so that we'd have grab-and-go snacks for the week ahead.
Easy. Whole. Vegan. is the perfect book for anyone who lives a busy lifestyle, but wants to make sure that there's still time to have a healthy, home-cooked vegan meal on the table.

Kale and Wild Rice Salad with Tempeh
Tempeh is one of my favorite plant-based proteins. Like tofu, it's made from soybeans, but it differs in that it's made by fermenting cooked soybeans. It also has an earthier flavor than tofu, so it happens to pair nicely with the wild rice in this recipe. The baby kale provides an unexpected sweetness, and the ginger adds a little spice to make this dish truly memorable. I suggest cutting the tempeh into smaller pieces to allow it to be better coated with the sauce.
Makes 4 to 5 servings
Prep and cook time: 50 minutes
Ingredients
2 cups (480 ml) water
1 cup (160 g) uncooked wild rice blend
One 8-ounce (227 g) package tempeh
¼ cup (60 ml) apple cider vinegar
¼ cup (60 ml) mirin (see Notes)
2 tablespoons toasted sesame oil (see Notes)
1 tablespoon Bragg Liquid Aminos (see Notes)
2 teaspoons freshly minced ginger
1 teaspoon garlic powder (or 1 garlic clove, minced)
3 cups (50 g) baby kale or spinach, loosely packed
Steps
1. In a large saucepan, add the water and wild rice blend and bring to a boil. Reduce to a simmer, then cover and cook for about 40 minutes, until all the liquid is absorbed.
2. Add everything else except the kale and cook for 5 to 7 minutes.
3. Add the kale and mix until it's slightly wilted.
4. Serve immediately or refrigerate for later. This will last at least a week in the fridge.
Notes
If you can't find mirin, check the Pantry section on page 12 for a good substitute.
If you don't use oil, you can probably omit the toasted sesame oil, but I think it adds great flavor.
If you avoid soy, you can use coconut aminos in place of the Bragg Liquid Aminos.
Recipe from Easy. Whole. Vegan.: 100 Flavor-Packed, No-Stress Recipes for Busy Families © Melissa King, 2016. Reprinted by permission of the publisher, The Experiment. Available wherever books are sold.  theexperimentpublishing.com
Review reprinted with permission from Dianne's Vegan Kitchen.