There are two important criteria in my life that help me decide what I'm cooking for dinner: (1) will my 14-month-old daughter eat it? and (2) is it fast and easy to make? The times have changed from when my biggest concerns were about if it would help me lose weight, have the healthiest possible non-gmo ingredients, the most organic phytonutrients, and if my husband would eat it. It's not that those factors no longer matter, but my primary focus has shifted since I am now taking care of my daughter full time as well as running a private psychotherapy practice. She is now 14 months old and going through a very picky stage. It seems that the publishing gods at BenBella have once again sent me exactly what the doctor ordered in the form of two cookbooks that each serves to meet one of my main two criteria.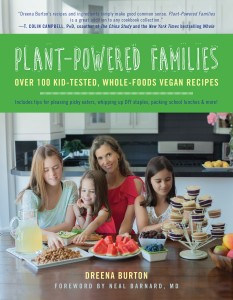 The first of the criteria that I mentioned above is most definitely met by the brand new cookbook, Plant Powered Families: Over 100 Kid-tested, Whole-foods Vegan Recipes. This is an incredible new cookbook written by none other than Dreena Burton, one of my favorite vegan superheroes. I always loved her recipes, but never really appreciated the creativity, talent and patience it takes to make plant-based recipes that your entire family will love (even picky children) until having one of my own. All of the recipes are vegan (of course) plant-based, healthy, and geared towards getting the entire family to eat them, not just adults. She offers lots of helpful tips for picky eaters as well as substitutions based on allergies, preferences, caloric intake etc. My daughter's current pattern as a picky eater entails being perfectly happy eating something constantly for days and then all of a sudden deciding that she won't eat it anymore and will throw it all on the floor. However there is one magical recipe, Simplest Marinated Baked Tofu that she will eat anytime I give it to her, and in fact it's so magical and delicious I have to tell my husband to leave her some and not finish the whole batch at a time. And yes folks, I will even hook you up with the recipe below.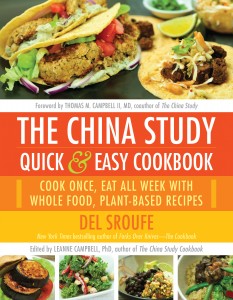 The second of my criteria is also met with flying colors by The China Study Quick & Easy Cookbook: Cook Once, Eat All Week With Whole Food, Plant-based Recipes by Del Sroufe and edited by Leanne Campbell, PhD. Chef Del Sroufe is an incredible vegan chef who happened to lose 200 pounds by following a plant-based, low-fat diet. Leanne Campbell is the author of The China Study Cookbook and editor of The China Study All-star Collection, two more of my favorite cookbooks. The recipes in this book are all vegan, low-fat, plant-based and follow the eating guidelines from The China Study. Even when I don't feel like cooking because I am exhausted and short on time, I find that the recipes from this book are faster to make than to even ordering in food or picking something up. I also love the meal plans and pantry lists provided to help simplify cooking even further. One of my favorite recipes from this book is the Quinoa Black Bean Buddha Bowl that is so easy to make, and uses things I almost always have in the house already (double bonus).
From Plant Powered Families:
Simplest Marinated Baked Tofu
Makes 20–24 square slices
The marinade bakes well into the tofu slices in this recipe. The flavors are delicious but simple—just the way kids like!
Ingredients
2½ tablespoons balsamic vinegar
2 tablespoons tamari or coconut aminos
1 teaspoon pure maple syrup
1 package (12 oz) extra firm tofu, cut into square slices ¼"– ½" thick and patted gently to remove excess moisture (20–24 square slices)
Preparation
Preheat oven to 375°F. In an 8″ × 12″ baking dish, stir together the vinegar, tamari, and maple syrup. Add the tofu and turn to coat each side.
Bake uncovered for 17–22 minutes, turning the tofu pieces once through baking. Remove from oven and let cool a little before serving; pour any remaining marinade over the tofu.
Ideas: This tofu makes a mighty tasty sandwich filling! Take any leftovers and mash, or pulse in a food processor until crumbly, then mix with diced veggies and condiments of your choice. To amp up the seasonings for adults, try adding a splash of chipotle hot sauce or vegan Worcestershire sauce, along with some garlic and onion powder. Or, add a teaspoon each of dried basil and oregano leaves, along with some freshly ground black pepper.
Fr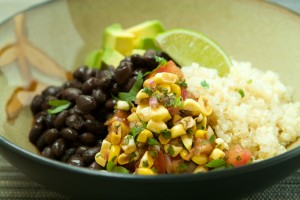 om The China Study Quick and Easy Cookbook:
Quinoa-Black Bean Buddha Bowl
Makes 4 servings
I make some kind of Buddha bowl or Zen bowl a few times weekly. I like them because it is not always about making a pretty presentation—sometimes you just want to get the food on the table. I make a big pot of some grain—quinoa is my favorite because of its nutty flavor and quick cooking time—once a week to have on hand, add some kind of sauce or salsa like the one in this recipe, and use frozen vegetables if I am in a hurry (fresh steamed vegetables when I have a little more time).
Ingredients
3 cups water
1½ cups quinoa, rinsed
1 teaspoon sea salt
2 15-ounce cans black beans, drained and rinsed
1 recipe Fresh Herbed Tomato-Corn Salsa (below)
1 ripe avocado, cubed
½ cup chopped fresh cilantro
Preparation
1. Bring the water to a boil in a medium pot. Add the quinoa and salt. Bring the pot back to a boil over high heat, reduce the heat to medium, and cook the quinoa, covered, for 15 minutes, until tender.
2. Add the black beans and cook just until heated.
3. Divide the quinoa–black bean mixture among four bowls and top with the salsa, avocado, and chopped cilantro.
Fresh Herbed Tomato-Corn Salsa
Makes about 3½ Cups
Ingredients
1 10-ounce package frozen corn or 4 ears fresh corn, cut from
the cob
1 large ripe tomato, diced
½ medium red onion, diced small
1 jalapeño pepper, seeded and diced
3 tablespoons balsamic vinegar
2 tablespoons chopped fresh basil
2 tablespoons chopped fresh cilantro sea salt to taste
PreparationCombine everything in a large bowl and mix well. Let sit for 1 hour at room temperature or refrigerated to let the flavors marry.
TIP
You can also make this with just the basil or just the cilantro—but I like using both.
Both of these cookbooks have instantly gone into my heavy rotation of what I am currently cooking from week to week and I highly recommend buying either or both.
The publishers have generously offered give a copy of each book to a Chic Vegan reader. Follow the instructions below to enter. Contest ends at midnight eastern time on June 21, 2015. U.S. residents only, please. Good luck!