I am honored to introduce you to Amanda Rootsey.  Amanda is an amazing person living her life to the fullest with as little environmental impact as possible.  As Australia's first Eco Model Amanda is paving the way for other models who are now choosing to only model for companies whose products are not harming the planet.
We at Chic Vegan are truly inspired by vegans making a difference and plan to showcase those vegans through our new interview series.
Prepare to be inspired…
CV – WHAT MOTIVATED YOU TO BECOME VEGAN AND WAS IT AN OVERNIGHT SWITCH OR MORE GRADUAL SHIFT?
AR – It was a bit of both actually, if that is possible!  I had been vegetarian for about 6 months and felt guilty about eating dairy products but hadn't quite cut them out.  Then I was diagnosed with Hodgkin's Lymphoma.  I started researching heavily in to what I could do to help my body heal and read so much about how animal protein is linked with a number of diseases, in particular with the promotion and growth of cancer in the body.  So it was very easy to go vegan then and I did it overnight.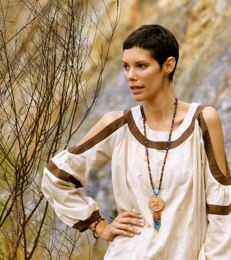 CV- I UNDERSTAND THAT YOU HAVE BEEN A MODEL FOR 10 YEARS.  HOW DID YOU GET YOUR START?
AR – I started off by doing a department and modeling course once I finished high school.  I then joined the agency in my city, Viviens Model Management, and went from there.  I had quite bad skin at the time (I was a bit of a late bloomer!) so I remember I went back in to the agency a couple of times before they actually signed me up.
CV – ON YOUR WEBSITE YOU DISCUSS THE FACT THAT YOU ARE A CANCER SURVIVOR.  DID YOU ENCOUNTER ANY RESISTANCE FROM DOCTORS WITH REGARDS TO BEING VEGAN? 

AR – I did encounter some resistance, about many things actually!  I initially made the decision to treat the cancer 100% naturally.  So for about a year I had some success with this, but unfortunately it just wasn't enough to get rid of it completely.  So I did end up going down the conventional path and that is when I started having to deal with dietitians and nutritionists in hospitals that didn't really know what to do with me!  The nutritionist and the kitchen staff would work together to come up with something they could feed me and all they could come up with was white rice and a bit of lettuce.  I actually tried to eat 100% raw vegan when I started chemotherapy but I got quite sick.  The oncologist came in and thought it was quite amusing because after doing some tests, they worked out that I got a tummy bug from a strawberry that mustn't have been washed properly.  He sat me down and explained that it was important that I cooked my foods thoroughly with my immune system being so low.  The conventional and the natural/complementary treatments are just at such opposite ends of each other!  But I am extremely grateful for both.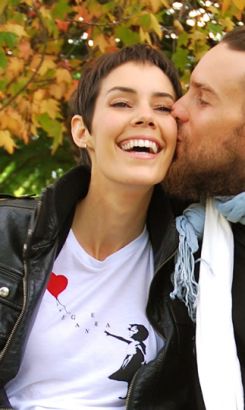 CV – TELL ME A LITTLE BIT ABOUT VEGAN ERA AND WHAT INSPIRED YOU TO CREATE IT. 

AR – Vegan Era is an online portal for vegan information that my boyfriend, David Rafter, and myself started about 4 years ago.  We wanted to create a space that was fun and represents what we believe being vegan is all about – Love, Peace and Compassion.  It's really evolved since we started it and it's almost like it has a life of it's own, growing and changing and moving forward all the time.  At the moment we are offering a 21 Day Online Program (click HERE for information) which is going really well.  We're about half way through it at the moment and we've had such amazing feedback.  We feel so blessed to be there and to offer any assistance or support that we can when people are starting along this beautiful journey.  So we're looking forward to running more of them!

CV – WALK ME THROUGH A DAY IN YOUR LIFE.

AR – Ok I usually wake up at about 5am and meditate for a couple of hours.  Then I take our puppy, Trudi, for a walk and come back and do some yoga.  We live a pretty simple life, 'off the grid' as much as possible so we have some work to do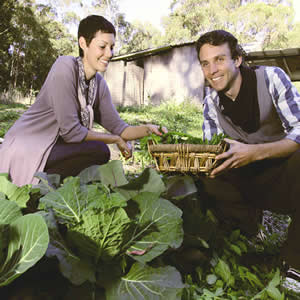 around the place each day (Click HERE to read more about Amanda's home).  Dave or I will usually fill up the water tanks we use as 'taps' in the kitchen and outdoor bathroom and we put out our solar appliances to be charged up, such as the solar lights and solar phone charger.   We usually have a cup of tea and some breakfast on our balcony and then I sit down and start working by 9am.  I work on my laptop for a few hours until the battery runs out and then I plug it in to be recharged from the solar system or start the generator to charge it, depending on how much sun we've had as we only have 1 solar panel for our power.  I then spend a couple of hours working around the property, hand washing our clothes, doing some gardening, etc.  Then I'll have a shower outside, make some lunch and sit back down to do some more work.  Before the sun sets, I finish up work and start preparing dinner as we don't have enough light to be in the kitchen at night time.  We then usually sit down and watch a movie or something to wind down and do some more meditation before tossing and turning all night as Trudi takes over the bed!

CV – WHAT DO YOU TYPICALLY EAT IN THE SPAN OF A DAY AND ARE YOU A SNACKER?

AR – I drink lots of tea – green tea, herbal tea, chai tea, roibos – you name it, I drink it!  Lately I've been eating some sprouted bread for breakfast, the really dense kind, with avocado, tomatoes and mushrooms on top.  I don't tend to snack too much during the day – I love cooking up big meals so I'm always too full to snack!  I love miso soup and I like making up a big one with loads of veggies, seaweed, dashi, miso paste and sometimes noodles for either lunch or dinner.  And lately for dinner I've been having couscous, quinoa, brown rice or fried polenta with heaps of fresh tomatoes, cucumbers, squash and lots of greens and herbs from the garden.  I have a sweet tooth and love finishing the day with some dark chocolate!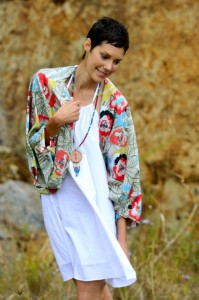 CV – WHAT IS YOUR FAVORITE DESSERT?

AR – Wow that's a tough one!  I really love making up a batch of zucchini and date muffins.  You can eat them all day long and they aren't too rich or sweet.  Besides, if they have zucchini in them they have to be healthy right?  🙂

CV – WHEN PEOPLE LEARN THAT YOU ARE VEGAN, WHAT IS THE #1 QUESTION THEY ASK AND WHAT IS YOUR RESPONSE?

AR – I think the last person to ask me a question about it said something like, "Don't you feel weak and tired?"  I usually respond to that question with, "No I feel like I have more energy than ever!"  And sometimes I add, "Check out www.veganera.com for more info!"

CV – WHAT VEGAN PRODUCT COULD YOU NOT LIVE WITHOUT?

AR – I asked my boyfriend what he thought I couldn't live without and he said Miso Soup.  He's probably right.

CV – IN YOUR WILDEST DREAMS WHAT WILL YOUR LIFE LOOK LIKE IN 5 YEARS?

AR – I have no idea and I love that!  I'm so happy right where I am now but I believe it's important to always go with the flow and be moving forward.  I've certainly learned over the last few years that, no matter how much planning we do, or how much we might want something or work towards something, life can change in an instant!  It's much more fun just going with it and seeing where life takes you rather than resisting and trying to have control all the time.  But I'll take a stab at it….in my wildest dreams, the whole world will be living in peace and no more humans or animals will be suffering.   To be here to witness this Heaven on Earth would be a pretty wild and beautiful dream.
Click HERE to visit Amanda's Blog
Click HERE to visit Vegan Era
Images courtesy of Amanda Rootsey