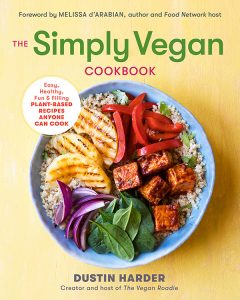 Cozy up to a hot bowl of Quick Thai Coconut Mushroom Soup. This dish from The Simply Vegan Cookbook by Dustin Harder is ready in just 15 minutes!
In my health coaching practice, I often hear from people who say that cooking vegan is too expensive and too time consuming, or that the ingredients are weird and hard to find. I've been cooking this way for so long and I don't know anything else, but I can totally understand how difficult it is when transitioning to a new way of eating. If you don't know what nutritional yeast is, where do you even go to buy it?
The Simply Vegan Cookbook
Luckily, Dustin Harder's new book The Simply Vegan Cookbook is here to vegan cooking fun and easy. The book is full of delicious recipes that use easy to find ingredients and none of them take very long to make. What could be better than that?
There are 150 recipes in The Simply Vegan Cookbook, and each one has two variations. That means that there are really 450 recipes – you could make a different one every day for a year and still have new dishes to try! None of the recipes take longer than half an hour of active time to make, so you won't find yourself in the kitchen for hours. And just about everything you need to make each dish can be found in a regular grocery store, and they won't break the bank. There are exceptions to that in the Kitchen Staples Chapter, because Easy Cheese Sauce just wouldn't be the same without white miso paste.
Highlights of The Simply Vegan Cookbook include:
150 recipes
Each recipe has two variations
None of the recipes take longer than 30 minutes of active cooking time
Recipe ingredients are easy to find and affordable
Dustin gives helpful tips throughout the book, and includes lots of helpful info for new vegans. There's also a list of "Neat Cheats" for those times when you just don't feel like making your own vegan staples.
What I really love about The Simply Vegan Cookbook is that the chapters are broken down my main ingredient, rather than meal type! That way, if you have a hankering for avocado, you can just flip to the avocado section of the book. If you need to get more greens into your diet, there's an entire chapter to help!
Chapters in The Simply Vegan Cookbook include:
Vegan Made Easy
Greens
Beans
Lentils
Grains
Broccoli and Cauliflower
Root Vegetables
Tofu
Squash
Avocado
Mushrooms
Simple Sweets
Kitchen Staples
If you're looking for easy recipes that don't take too much time to prepare and won't break the bank, The Easy Vegan Cookbook is for you!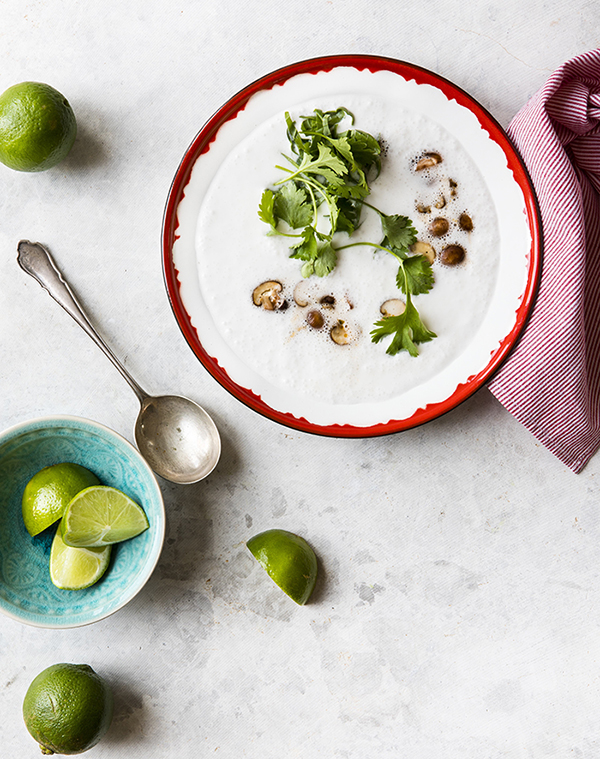 Quick Thai Coconut Mushroom Soup
Author:
Prep time:
Cook time:
Total time:
This soup is inspired by tom kha gai (Thai coconut chicken soup). Most recipes have a lengthy list of ingredients, including the specialty items of lemongrass and lime leaf. I created this super-simple soup that can easily be tossed together with stuff you have on hand or after a breezy trip to the grocery store on your way home from work. To make it even easier, if you can't find Thai basil, use regular basil this time around.
Ingredients
1 1/2 cups low-sodium vegetable broth, divided
2 garlic cloves, minced
1 tablespoon minced fresh ginger
1 (8-ounce) package baby bella or white button mushrooms, stemmed and sliced
1 (13.5-ounce) can full-fat coconut milk
Juice of 1/2 lemon
Juice of 1/2 lime
2 tablespoons chopped fresh Thai basil
1 tablespoon chopped fresh cilantro
Fresh cilantro leaves, for garnish (optional)
Lime wedges, for garnish (optional)
Instructions
Heat 1/2 cup of broth in a large saucepot over medium-high heat. Sauté the garlic and ginger in the broth for 1 minute, or until fragrant.
Add the mushrooms and slowly pour in the remaining 1 cup of broth. Bring to a boil and reduce the heat to
a simmer.
Add the coconut milk, lemon juice, lime juice, basil, and chopped cilantro. Let simmer for 5 minutes, or until heated through.
Garnish with whole cilantro leaves and lime wedges, if desired.
Notes
Recipe from [i][url href="http://amzn.to/2DBrrsN" target="_blank" rel="nofollow"]The Simply Vegan Cookbook[/url][/i] by Dustin Harder. Reprinted with permission.
Review reprinted from Dianne's Vegan Kitchen with permission.