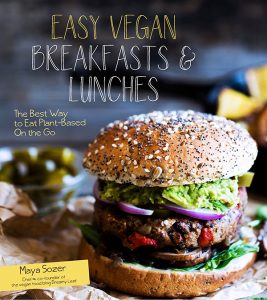 One of the things that I've noticed from my years of health coaching, is that a lot of people aren't sure what to make for breakfast. They're in a rush in the morning and don't have much time to cook, or they aren't sure what to eat now that sausages and eggs are out of the picture. A lot of new vegans aren't quite sure what to have for lunch, either, since eating meat and cheese sandwiches is no longer an option. Fortunately, Easy Vegan Breakfasts and Lunches is here to help!
The title says it all – Easy Vegan Breakfasts and Lunches by Maya Sozer from Dreamy Leaf is packed full of recipes for quick and easy-to-make breakfasts and lunches. Whether you work in corporate America, are self-employed, or a full-time mom, the day can get busy, and it can be difficult to get a decent meal. The recipes in Easy Vegan Breakfasts and Lunches are far more economical – not to mention more delicious – than takeout or prepackaged meals. Wouldn't you rather have a delicious bowl of Coconut Curry Polenta with Sautéed Mushrooms for lunch instead of a prepackaged sandwich from the corner store? Doesn't Day Dream French Toast sound like a much tastier option than a dry, bland bagel?
While most of the recipes in Easy Vegan Breakfasts and Lunches come together in a matter of minutes, some require just a little time to prep ingredients the night or weekend before. If you work outside of the home, you can easily make lunch before you head out in the morning, and pack it to go.
Breakfast recipes include mouthwatering Good Moring Tiramisu, Blueberry Chia Smoothie, and Quinoa Porridge. Delicious lunch choices range from Green Lentil Burgers and Spicy Potato Leek Salad to Takeaway Sandwich and Broccoli Waldorf Salad. And just in case you're in need of a little pick-me-up, snack recipes are included, too, with such options as Raw Apple Pie Bars, Beet Hummus, and Mini Lemon Curd Tarts.
Easy Vegan Breakfasts and Lunches is the perfect book for another who is looking for quick and easy recipes for their morning and midday meals. It's perfect for just about anyone who wants to stay healthy and eat well, despite a hectic schedule.

Curried Chickpea Tacos
Let's make a little unusual taco, with curried chickpeas for the spicy protein element together with an awesome, perfectly complementing red cabbage and avocado salad. Because we know that anything in a tortilla shell is allowed to be tacos and that tacos won't judge. Both the chickpeas and the red cabbage salad can be made ahead, to be assembled into tacos at lunchtime.
Serves 2
Curried Chickpeas
1 (15-oz [425-g]) can chickpeas, drained and rinsed
1 ½ tsp (3 g) curry powder
1 tsp (3 g) garlic powder
1 tbsp (15 ml) olive oil
1 tsp (5 ml) hot sauce
Red Cabbage Salad
2 cups (140 g) shaved red cabbage (shave with a peeler)
½ cup (35 g) chopped lettuce
1 tbsp (15 ml) olive oil
Juice of ½ lemon
1 radish, sliced
1 cucumber, cubed
6 cherry tomatoes, cut in half
1 avocado, peeled, pitted and cubed
Salt
4 soft tortillas (I used wheat)
Preparation
Place all the ingredients for the curried chickpeas in a pan over medium-high heat and cook for 5 to 7 minutes. Mix the salad ingredients in a large bowl. Heat the tortillas in a panini maker, in a pan or directly over the stovetop until you get a little charring and crispness. Stuff the tortillas with the fillings.
From from Easy Vegan Breakfasts and Lunches by Maya Sozer. Reprinted with permission from Page Street Publishing, Co.
We have a copy of Easy Vegan Breakfasts and Lunches for one luck winner. Follow the instructions below to enter. U.S. residents only, please. Contest ends a midnight on September 18th. Good luck!