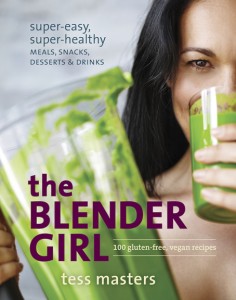 I first met Tess Masters at Vida Vegan Con in Portland, OR, last year. She and I were staying in the same hotel, and we ran into each other with mutual friends on the elevator. Because Portland is so far away from home, I was feeling extremely jetlagged. I wasn't really in any state to meet new people and I all I wanted to do was take a nap. Tess, however, was friendly and full of energy, and I found myself wanting to know her secret. My wish has been fulfilled, as she shares some of her secrets in her new book The Blender Girl.
As you can tell by the title, The Blender Girl is full of recipes that utilize a blender. If you don't have a blender, that's okay, as Tess gives the low down on blenders, and she has recommendations for good models to suite anyone's budget. She also gives tips on how to use blenders, so you don't burn out the motor trying to make a batch of nut cheese or a particularly thick sauce. There are also instructions for soaking nuts, sprouting grains and beans, and making homemade nut milks.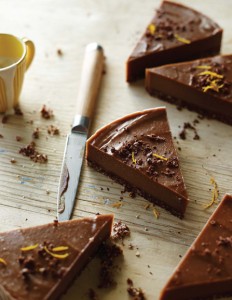 I expected The Blender Girl to be a book about smoothies, and while there are some smoothie and shake recipes, it's so much more than that. There are recipes for dips, dressings, soups, snacks, desserts, and even full entrees. The book features many raw recipes, and a dehydrator is needed in addition to blender for a few of them, but there are also many cooked recipes that utilize blended components likes sauces.
I decided to sample from a few different chapters when picking recipes to try from The Blender Girl. The first thing I tried was The Raspberry-Lemon Cheese Shake. This delicious drink was made with cashews, fruit, and coconut water and was a perfect dessert. From there I made Macadamia Feta in my dehydrator. It had a nice feta-ish zing to it that I haven't been able to recreate with the tofu fetas I've been experimenting with. I had intended to add the feta to the Glowing Greek Salad, but somehow I ended up making the Twister Caesar Pleaser Salad on the opposite page, and added the cheese to that instead. It was a happy accident, as the dish was incredible! I also made a big batch of Nut-Free Alkaline Tomato Kale Chips, which were so good that they didn't last very long. I have plenty more recipes bookmarked for future meals, so I know I'll be cooking from The Blender Girl for quite a while. One my list now that the weather has taken a chilly turn is this I-Love-Veggies Bake.
i-love-veggies! Bake
serves 6 to 8
Ingredients
Sauce:
3 tablespoons olive oil
2 cups (300g) diced yellow onion
Natural salt
1 tablespoon finely chopped garlic (about 3 cloves)
2 cups (480ml) vegetable broth
½ cup (70g) raw unsalted cashews
1 head cauliflower (about 13/4 pounds/800g), cut into florets and steamed
¼ teaspoon freshly ground black pepper
1 tablespoon finely chopped thyme
1 ½ teaspoons finely chopped rosemary
1/8 teaspoon paprika
Pinch of cayenne pepper
2 teaspoons freshly squeezed lemon juice
Veggie Bake:
1/2 butternut squash (or pumpkin), peeled, seeded, and
very thinly sliced
1/4 cup (20g) plus 2 tablespoons finely chopped green onion (white and green parts)
3 tablespoons finely chopped chives
1/4 cup (12g) plus 1 tablespoon finely chopped flat-leaf parsley
3 large potatoes, very thinly sliced
1 pound (450g) green beans, trimmed and cut into 1-inch (2.5cm) pieces
1 large orange-flesh sweet potato, peeled and very thinly sliced
1 cup (90g) sliced almonds
3 tablespoons dried onion flakes
Preparation
To make the sauce, heat 2 tablespoons of the olive oil in a shallow saucepan over medium heat. Add the onion and a pinch of salt and saute for about 5 minutes, until the onion is translucent. Add the garlic and saute for 5 to 10 minutes, until the onion starts to brown. Put the broth, cashews, and onion mixture into your blender and puree on high for 30 to 60 seconds, until smooth and creamy. Add half of the cauliflower and blast on high for about 30 seconds more, until combined. Add the remaining cauliflower, 2 teaspoons of salt, the pepper, thyme, rosemary, paprika, cayenne, and lemon juice and puree for about 1 minute, until smooth and creamy. Set aside.
Preheat the oven to 375°F (190°C) and lightly grease a 31/2-quart (3.5l) baking dish with oil. To make the veggie bake, lay the butternut squash in the bottom of the baking dish in overlapping rows. Add 11/4 cups (300ml) of the sauce and sprinkle 2 tablespoons of the green onion, 1 tablespoon of the chives, and 1 tablespoon of the parsley over the top. Layer on the potatoes and cover with 11/4 cups (300ml) of the sauce. Sprinkle on 2 tablespoons of the green onion, 1 tablespoon of the chives, and 1 tablespoon of the parsley. Layer on the beans and cover with 11/4 cups (300ml) of the sauce. Sprinkle on the remaining green onion, chives, and 1 tablespoon of the parsley. Add the sweet potatoes and cover with the remaining sauce. Cover with aluminum foil and bake for 1 hour. Uncover and sprinkle the almonds and onion flakes over the top. Bake for about 15 minutes more, until the vegetables are cooked through. Cool for 5 minutes, then serve family-style, sprinkled with the remaining parsley
Reprinted with permission from The Blender Girl by Tess Masters, copyright (c) 2014. Published by Ten Speed Press, an imprint of Random House LLC.
Photography (c) 2014 by Anson Smart