The sauce in this Butternut Squash Carbonara is luscious and silky smooth, a wonderful and healthy interpretation of a traditional carbonara, which is loaded with cream and egg yolks. It's so good you may want to lick the plate clean.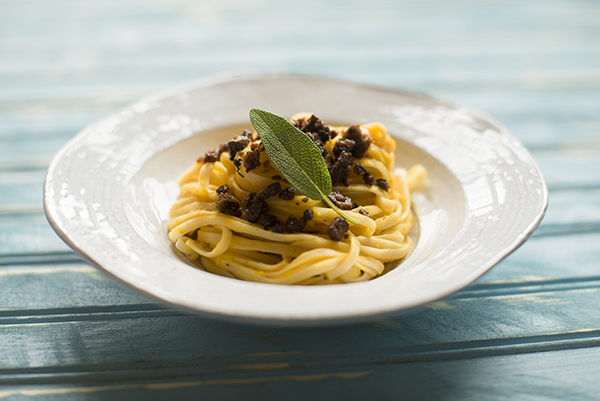 Butternut Squash Carbonara with Bacon and Sage
Author:
Leinana Two Moons
Ingredients
2 tablespoons olive oil
6 slices tempeh bacon or other vegan bacon, finely chopped
2 tablespoons finely chopped fresh sage
2 pounds butternut squash or kabocha squash, peeled, seeded, and cut into ½-inch pieces
1 small onion, coarsely chopped
2 cloves garlic, coarsely chopped
Salt and ground black pepper, to taste
2 cups vegetable broth
12 ounces fettucine or linguine
Instructions
Heat the oil in a large skillet over medium-high heat. Add the bacon and cook until crisp and browned, stirring occasionally, about 5 minutes. Add the sage and toss to coat. Transfer the bacon and sage to a small bowl and set aside.
Add the squash, onion, and garlic to the same skillet over medium heat. Season with salt and pepper and cook, stirring occasionally, until onion is translucent, 8 to 10 minutes. Add the broth and bring to a boil. Reduce to a simmer and cook until the squash is soft and the liquid is reduced by half, 15 to 20 minutes. Let the squash mixture cool for a few minutes then transfer it to a blender and puree until smooth. Set aside and reserve the skillet.
Cook the pasta in a large pot of salted boiling water. Drain, reserving 1 cup of the cooking water.
Combine the pasta, pureed squash, and about ¼ cup of the cooking water in the skillet. Toss and cook over medium heat, until the pasta is thoroughly coated. If the sauce is too thick, add more of the pasta cooking water as needed. Serve the pasta topped with the tempeh bacon and sage.
Notes
From
Baconish
© 2016 by Leinana Two Moons. Used with permission from Vegan Heritage Press.