Because our food sources and diets are not always optimal, supplements can play an important part in our health regimens. I see supplementation as a nice option and as a sometimes necessity for health. It's also useful for rounding out a diet that may be lacking in certain nutrients due to soil depletion and other factors.
Though we often think of supplements as colorful pills in a plastic or amber glass bottle, foods can be supplements, too. Some foods are ripe with healing potential, and adding them to your diet can help maintain or regain your health. While I don't shy away from using high-quality herbal and food-based supplements in pill form, I enjoy the extra oomph that certain foods can provide to my diet.
I've rounded up just a few of my favorite foods that I use as supplements: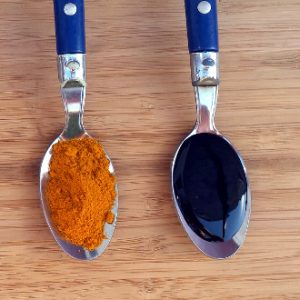 Turmeric – Containing inflammation-busting compounds, including curcumin which is the most widely studied, turmeric is the champion of anti-inflammatory foods. It's healing potential has been lauded by conventional and holistic minds alike. It's helpful when my body is under stress from things like viruses, lack of sleep, or even difficult life events. I add the powder to plant milk, smoothies, spicy lemonade, tofu scrambles, stir-fries, tahini sauce, and more. I also buy the fresh root and juice it along with carrots, ginger, and a small piece of lemon.
Chia, Flax, Hemp Seeds – Western diets, and even many vegan diets, can contain way too few omega-3s and way too many omega-6s. Consuming foods that are high in omega-3s can help to correct this imbalance. Fish oil is the most well-known omega-3 supplement, but with the fish oil comes various contaminants and heavy metals. It is also of course a byproduct of cruelty. Vegan algae-based supplements exist now, but chia, hemp, and flax will give you a healthy dose of omega-3s, too. My favorite way to use chia is soaking the seeds in plant milk to make a pudding. I sprinkle flax on salad, and I adore the nutty flavor of flax and quinoa together. Hemp seeds are fantastic bases for creamy and cheesy sauces.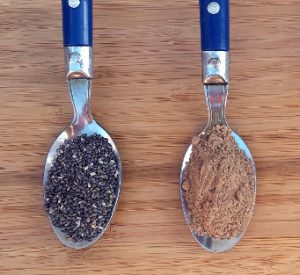 Camu Camu and Acerola Cherry Powders – These fruits are extremely high in vitamin c. Additionally, because they are whole foods, they provide a range of other health-promoting nutrients. You can find acerola and camu camu powders at health food stores or online. These are handy when my immune system is feeling weaker than normal. I'll add a serving of one of these powders to a glass of fresh green juice or my spicy lemonade. They are both relatively bitter, so it's nice to add them into something sweet to make them more palatable.
Blackstrap Molasses – By no means a whole food like the others, blackstrap molasses is still one of my favorite food supplements. At just 11 grams of sugar and 42 calories, 1 tablespoon provides 20% of your daily iron and calcium respectively. Through yearly blood tests, I know that my iron levels are great. However, I sometimes use blackstrap molasses supplementally during my cycle to support my body and replenish nutrient losses. I like that I get a quick shot of iron (and calcium, yay!) in addition to my food-based multi-vitamin. Sometimes I eat it right out of the measuring spoon after my morning lemon water. But in the colder months, I love to incorporate it into breakfasts like pumpkin spiced oatmeal.
Along with a daily diet that is loaded with fruits, veggies, grains, and beans and other plant proteins, these supplemental foods keep me feeling my best. What are some of your favorite supplemental foods?