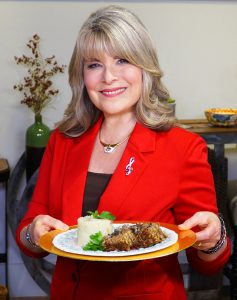 Jazzy Vegetarian returns for a sixth season with new guests, delicious plant-based recipes from around the globe, and lots of "food with fun"!"
Chef Laura Theodore is back with more scrumptious plant-based recipes to please any palate. From a Bollywood Kitchen Supper to a Tex-Mex Menu, Laura shows viewers how to cook healthful, tasty vegan food for family and friends. Jazzy Vegetarian, Season Six airs nationally (check local listings).
Several luminary guests join the fun this season, too. Viewers can look forward to visits from celebrated jazz singer Kelle Jolly; Bollywood writer and producer Sri Rao; and superstar Broadway choreographer and director Chase Brock, along with the entire cast of Music Man!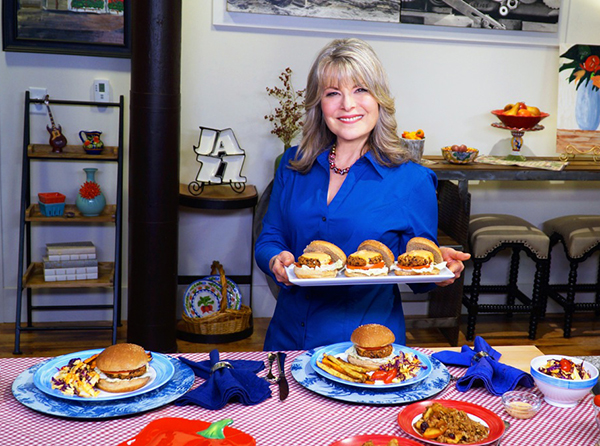 In 13 all-new episodes, Laura creates mouthwatering entrées like Teriyaki Kebabs, Sunny Black Bean Burgers, and Gingered Portobello Steaks. Crowd-pleasing party foods include Guacamole Mini Peppers, Chili-Maple Almonds, and Miso Hummus. Rajma, Golden Cashew Milk, and Seitan Fajitas round out diverse dinner party menus. And for dessert, Laura has plenty of scrumptious sweets to choose from, like Lively-Lemon Cupcakes, Sweet Potato Pie, and Divine Chocolate Mousse Cake.
Tune in to Season Six of Jazzy Vegetarian, for some of Laura's favorite recipes and fabulous guests, served up with a tasty twist!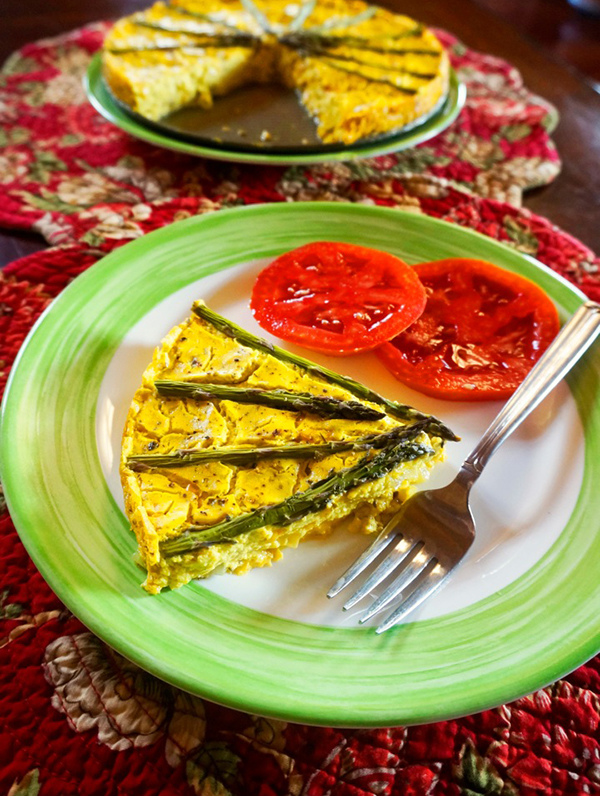 Asparagus Tart
This amazing dish is a tasty cross between a veggie quiche and a crustless tart. Simple-to- prepare, pretty to serve and delicious to eat!
Ingredients
1 block (14 to 16 ounces) extra-firm regular tofu, drained
1 aseptic box (12 to 12½ ounces) extra-firm silken tofu, drained
1 tablespoon nondairy milk
½ teaspoon sea salt
½ teaspoon ground turmeric
½ teaspoon garlic powder
⅛ teaspoon freshly ground black pepper, plus more to taste
½ cup shredded vegan cheddar-style cheese
2 teaspoons Italian seasoning blend
1 medium sweet onion, finely diced
14 asparagus stalks, cut into 4 to 4½-inch lengths
Instructions
Preheat the oven to 350 degrees F. Generously coat a 9-inch round springform pan with vegan margarine.
Put the regular tofu, silken tofu, nondairy milk, salt, turmeric, garlic powder and pepper into a blender or food processor and process until smooth.
Fold in the vegan cheddar cheese, Italian seasoning and onion, using a rubber spatula. Transfer the tofu mixture to the prepared pan and smooth the top with the back of a rubber spatula. Arrange the 14 asparagus spears to resemble the spokes of a wheel, with the asparagus tips forming the center of the "wheel."
Top the quiche with several grinds of black pepper. Bake for 45 to 55 minutes, or until the center of the tart is quite firm to the touch. Put the pan on a wire rack and let cool 5 minutes.
Gently run a table knife around the perimeter of the tart to loosen it from the sides of the pan. Let cool for 5 to 7 minutes, then carefully remove the outer ring of the springform pan.
Let the tart cool for 30 minutes more before serving (see note). Alternately, cover the tart and refrigerate for 4 to 6 hours, or until well chilled, and serve cold.
Notes
When served warm, the tart will be quite soft, so slice it carefully for serving. The tart will firm up quite a bit after it is refrigerated for 4 to 6 hours.
Recipe and photo by Laura Theodore, from
JazzyVegetarian's Deliciously Vegan
. Release date, March 6th, 2018. Published by
Scribe Publishing
©2018, reprinted by permission.
SaveSaveSaveSave