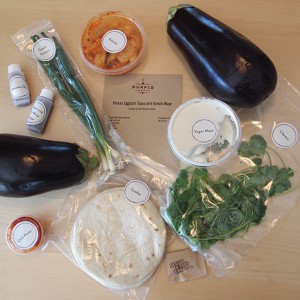 I love to cooking and creating recipes, but sometimes I don't have much time or I suffer from kitchen burnout and want someone else to do the work for me. Fortunately The Purple Carrot recently came to my rescue!
The Purple Carrot is a vegan meal delivery service. Each week they mail the all of the raw, premeasured ingredients needed to make delicious plant-based meals and snacks right to your door. Every week they give four new dinner options, and customers get to pick the two that they like the best. The pre-measured ingredients for the dishes are sent along with recipe cards. Ingredients to make a healthy snack are included too. All of the ingredients are fresh, organic, and non-gmo, and once they arrive you just need to chop, mix, and cook. Meals take around half an hour to make, and they serve 4 people.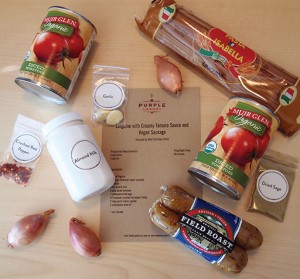 I was impressed with The Purple Carrot as soon as I opened the box. The ingredients for each meal were premeasured, labeled, and packaged in little containers, and each meal's ingredients were packed together in a labeled bag. Recipe cards came along with the food, and each one listed the preparation requirements, such as a large skillet, as well as the cook and prep time.
The meals I choose for my delivery were Linguine with Creamy Tomato Sauce and Vegan Sausage and Korean Eggplant Tacos with Kimchi Mayo. The snack that came along with the meals was Cookie Dough Hummus with apples and graham crackers for dipping. Both meals were quick and easy to prepare, as well as quite delicious. There are only two of us, so we had leftovers of the linguine dish, and we actually got three meals each out of it, rather than two. There's something quite comforting and soul satisfying about pasta, (veggie) sausage, and tomatoes.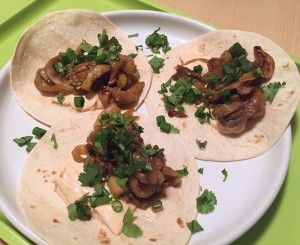 The Korean tacos were so incredible that we ate them all in one go though. The dish was so original that I'm going to hang on to that recipe card and make them again in the future. I loved the spicy eggplant strips paired with the creamy kimchi mayo. Kimchi mayo – pure genius!
I'm going to have to admit that I was skeptical about the Cookie Dough Hummus at first. Do I want to eat hummus that tasted like cookie dough? I quickly realized that the answer was an absolute yes! It was super fast to put together, and I found that the flavors came together after sitting in the fridge for about an hour. I was impressed that the two apples and four graham crackers that came with the snack was the perfect amount for dipping – the hummus was finished with the last apple wedge. (I know how difficult it is to figure out the dip to dipper ratio!)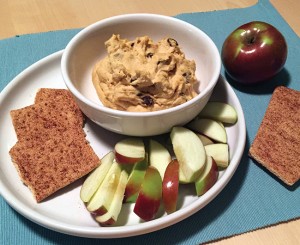 The Purple Carrot is a perfect for busy families who want a healthy home-cooked meal but don't have much time in the evenings. It's also great for kitchen novices just learning to cook or seasoned cooks who are suffering from kitchen burnout like I was. It's much healthier and more delicious than take-out and in some cases probably even faster. I'm definitely going to be ordering from The Purple Carrot during weeks that I know I'm going to be too busy to deal with dinner.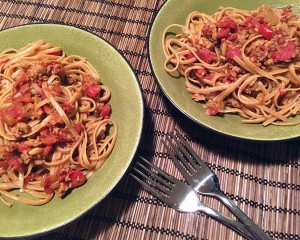 The Purple Carrot is generously offering a discount for Chic Vegan readers who would like to give the meal delivery service a try. Use the code "CHIC" at checkout to save 50% off your first order. Place your order on ThePurpleCarrot.com.