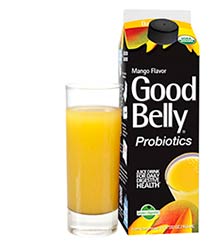 If you're a regular reader of my posts, you might know that I had surgery back in March. One of the things removed (there were several) was my appendix. It used to be believed that the appendix didn't have a function, but it was discovered not too long ago that it is actually a "safe house" for the beneficial bacteria living in the human gut. After surgery I made it a point to pick up a bottle of probiotics, and then hope I would remember to take it every day. When GoodBelly contacted me and asked if I was interested in taking their 12 Day GoodBelly Challenge, I jumped at the chance, since I know remembering to drink a little juice in the morning would be easier than remembering to take pill.
GoodBelly is a line of organic juices that deliver a powerful daily dose of live and active probiotic cultures of Lactobacillus plantarum299v, a well-studied probiotic strain that is specially formulated for daily digestive health. Beneficial bacteria live in our gut (i.e. intestines) but many of the 'live and active cultures' found on the market today in products such as yogurt don't actually survive the stomach's acidic environment. Lactobacillus plantarum299v, the probiotic strain in GoodBelly's product, will survive the stomach's harsh environment. GoodBelly drinks are dairy-free, soy-free, and, of course, vegan.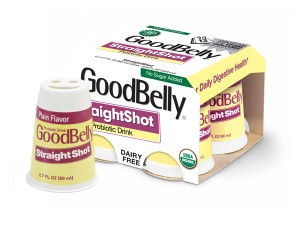 GoodBelly drinks come in family-sized quarts, StraightShots, GoodBelly+ shots, and BigShot50. The family-sized quarts come in a variety of flavors, and contain 4 servings of juice. The StraightShot is a four-pack of single serving containers, and comes in one fruity flavor. GoodBelly+ is a four-pack of single serving containers, is available in four flavors, and is full of vitamins and minerals, in addition to probiotics. BigShot50 is a dairy-free oatmilk that that contains the highest level of probiotics in the GoodBelly line.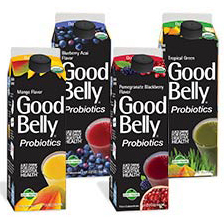 The GoodBelly Challenge is simple – just drink 8 ounces of GoodBelly every day for 12 days! For my challenge, I choose a Tropical Green quart, the GoodBelly straight shot four-pack, and the GoodBelly+ four-pack in blueberry acai flavor. The shots all have a cute smiley face in the lid, and I was happy to find that they're recyclable. My digestion is generally pretty good, so I honestly don't know if I felt any different during the 12 days that I was taking the challenge, but the juices were all really tasty, and I enjoyed drinking my probiotics everyday, rather than taking a pill.
To take the GoodBelly 12 Day Challenge, simply sign up via email or Facebook. You'll receive coupons for a discounted 12 day supply of drinks. When the 12 days are over, GoodBelly will check in with you to see how you're doing, and they will email you another discounted coupon. Visit the GoodBelly website for more information.