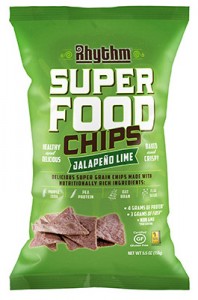 Last year Rhythm Superfoods sent me some of their Kale Chips, to try, and they were by far the best prepackaged kale chips I've had, so when they asked if I wanted to sample some of their new Superfood Chips, I said yes.
In an effort to expand their healthy snacks menu, Rhythm Superfoods just launched the Superfood Chip. Available in four savory and nutritious flavors – three of which are vegan –  Superfood Chips pack an array of benefits into a non-GMO snack.  The zesty, flavorful Jalapeno Lime chips are made with purple corn, an ancient gluten-free superfood that packs more antioxidant power than blueberries, acai berries and pomegranate juice. The Sea Salt chips are made with a super veggie base containing sweet potato, carrot and broccoli, and are for dipping. Barbeque Superfood Chips feature a super grain base baked with quinoa, amaranth seeds and oat bran, putting a healthy twist on two favorite flavors. All the chip flavors deliver great taste with 50% less fat per serving than the leading potato and tortilla chips in addition to being vegetarian, gluten-free and kosher-certified. 
Rhythm Superfoods sent me their three vegan Superfood Chips flavors to try: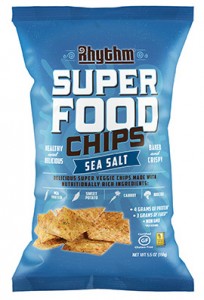 Sea Salt – These chips are made whole red, white, and yellow corn flour, sweet potato, carrot and broccoli and are the perfect accompaniment to hummus or guacamole. They didn't last long enough to make it a to dip in my house though. VeggieGuy said that these were the best chips he'd ever eaten and he was pretty sad when the last chip had been eaten. 
Jalapeno Lime – These complex chips start out with the tangy taste of lime and finish with the spicy heat of jalapeno and were my favorite of the three flavors. They're made with purple corn, an ancient superfood with more antioxidant power than blueberries, acai berries, and pomegranate juice.
Barbecue – These chips are smoky and sweet and reminiscent of the barbecue potato chips I ate way too much of when I was younger. They are made are with super grains like quinoa, amaranth seeds, and oat bran.
Serve these healthy snacks at your holiday party and watch them disappear!