Needing only fifteen minutes to prep, with only seven ingredients to assemble, this Quick Red Lentil Curry Soup is an excellent candidate for a nutritious lunch or informal supper. As the red lentils cook, they break down to magically thicken the broth. Before you know it, you have a hearty delicious soup, ready to serve.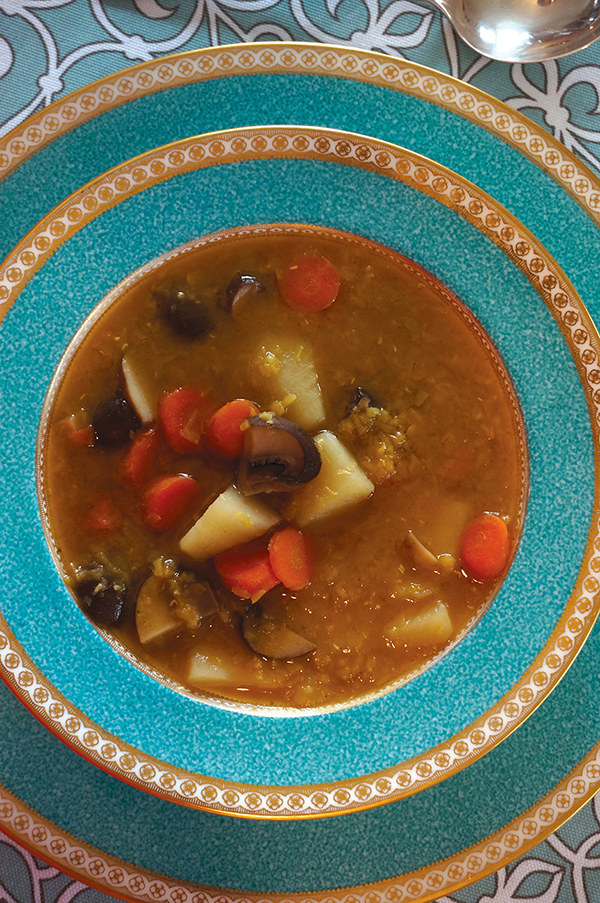 Quick Red Lentil Curry Soup
Ingredients
32 ounces vegetable broth
2 cups peeled and diced red or white potatoes
1½ cups sliced carrots
1 cup red lentils, sorted and thoroughly rinsed (see note)
8 ounces cremini or white button mushrooms, diced
½ cup filtered or spring water, plus more as needed
¼ teaspoon curry powder
Instructions
Put all of the ingredients in a medium-sized soup pot and bring to a boil over medium-high heat. Once boiling, decrease the heat to medium-low, cover and simmer 45 to 50 minutes, stirring occasionally, until the vegetables are tender and the lentils are soft. Add more water, as needed, if the soup becomes too thick as it cooks. Serve piping hot.
Notes
To sort the lentils, spread them out in a single layer on a large baking sheet. Remove any stones, dirt, broken lentils, or other debris. The lentils are now ready to be rinsed and used in your recipe. You may also sort split peas or dried beans in this manner.
Recipe from
Laura Theodore's Vegan-Ease: An Easy Guide to Enjoying a Plant-Based Diet
© Laura Theodore (Jazzy Vegetarian, LLC 2015), reprinted by permission.