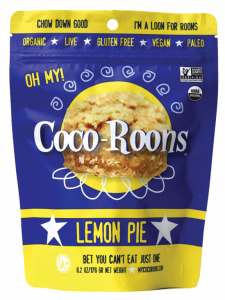 Have you wandered the snack aisle at your grocery store lately?  There are dozens of products but none of them offer any nutrition at all.  Preservatives.  Chemicals.  Added sugars.  Artificial ingredients.  Reading the labels on some of these products is like reading a science experiment.  For the longest time, I resorted to making my own snacks because it was easier than trying to find one snack that tasted good and was good for me.
Luckily, that's changing and it's getting a little easier to find snacks at the store that won't compromise your health or their taste.  Wonderfully Raw Gourmet Delights is one of the leading brands putting quality snacks on the market that are made with real food and full of flavor.  I recently got a chance to try a few varieties of their Coco-Roons, and I was not sorry!
Wonderfully Raw Gourmet Delights was created by mother-son team Sequoia Cheney and chef Eric Hara.  After Sequoia was diagnosed with Type 2 Diabetes, she was determined to beat the disease through cooking and eating organic food.  Once she beat the disease, she wanted to make it easier for other people to find quality snack foods at their local grocery store.  Along with her son, they created Wonderfully Raw Gourmet Delights and their snack line of Coco-Roons, Brussel Bytes, Snip Chips and Dipperz.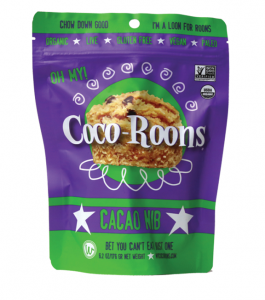 Coco-Roons come in two different sizes and six different flavors.  I got to try mini lemon pie Coco-Roons ($2.99) and the regular size cacao nib Coco-Roons ($7.99).  I absolutely loved the mini lemon pie Coco-Roons because they were the perfect size to satisfy my sweet tooth without being too much.  They were also the perfect balance of sweet and tart.  The cacao nib flavor was good too, but you really need to like cacao nibs to enjoy them because that is the predominant flavor.
While the flavors and sizes were good, my favorite part has to be the ingredient list.  There are only seven ingredients and all of them are recognizable.  One of my requirements for store-bought snacks is that I should be able to have every ingredient available in my kitchen and that requirement was met with these Coco-Roons.  Made with coconut, almond flour, and sweetened with maple syrup, they're also gluten-free, vegan, AND paleo. Not many store-bought snacks can say that.
The other nice thing about these snacks is that they are available at more than 3,000 retail locations nationwide as well as online.  They aren't super expensive and while they might not be as cheap as some other junk snack foods, I'm ok with paying a little more for something that is actually going to nourish my body.  If you want to find out where you can buy Coco-Roons or learn more about their other snack lines or the company, you can check them out at mycocoroons.com.