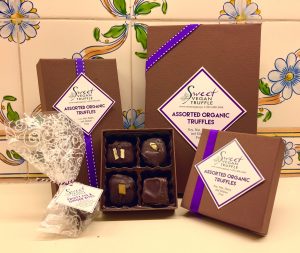 Great news, chocolate lovers! Andrea Young's Sweet Vegan 100% vegan, gourmet chocolates tantalize our senses with interesting and delicious flavor combinations such as Fig & Ginger, Luscious Lemon, and Energizing Espresso. These chocolates are not only sumptuous, but are packed with antioxidants and have no fillers, preservatives or artificial additives. And for those with allergy concerns, they are nut-free, dairy-free (of course), gluten-free and soy-free.
Andrea's story began as the eldest of six children. Raised by a single mother, Andrea handled a lot of the family cooking and was taught to bake by her grandmother.
She tells us, "My love of making desserts and especially lovely, decorated cakes evolved. The same passion for the aesthetic of decorating was also reflected in my interest for design. This eventually led me from Indianapolis to the Parsons School of Design in New York City and on to a successful career as an interior designer."
While visiting New York City, her mother took a tumble that landed her in the hospital. This led Andrea to hire chef and nutritionist Christine Waltermyer, who runs The Natural Kitchen Cooking School, to prepare vegan meals to aid in her mother's healing.
She adds, "Working with Christine in my kitchen reawakened my childhood love of cooking. When business began slowing down at work, I decided to enroll in The Natural Kitchen Cooking School." It was a proud moment when her mother, even with frail health, traveled to NYC to attend the graduation ceremony and celebrate Andrea's accomplishment.
Andrea became passionate about the food-body connection and from this journey, Sweet Vegan was born. She is driven every day to bring you the most delicious chocolates…that happen to be vegan.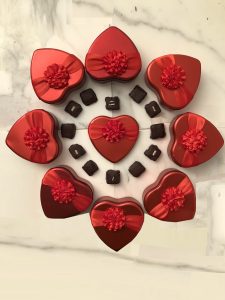 ENTER OUR INSTAGRAM GIVEAWAY!
Join our Valentine's Day giveaway with Sweet Vegan for a chance to win their delicious truffles! Packaged with love in our special heart box, they include two decadent Midnight Passion Dreamy Bites and two Apricot & Cherry Fruity Bites. The winner will be announced on February 14th. Visit our Instagram post for more details.
Find Sweet Vegan at https://www.sweetvegan.nyc/ and @sweetvegannyc on all social media