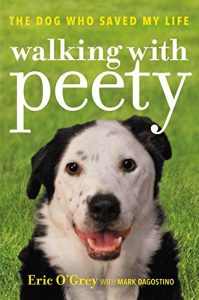 Eric O'Grey had hit rock bottom when he went to a nutritionist who prescribed two things that would change his life: a whole food, plant-based diet, and a dog. Over the course of the next few years, his life changed. So did the life of Peety, the dog he adopted from the Humane Society. Walking with Peety: The Dog Who Saved My Life, co-written with Mark Dagostino, is their story.
That a dog changed the author's life doesn't surprise me. I know the power in meeting an animal, in realizing he is someone, not something. It's one of the reasons I'm such a fan of farm animal sanctuaries. Not only did O'Grey change his lifestyle and lose a lot of weight, he bonded completely with the dog he was matched with. This led to changes he never could have imagined, first with his health, then with his home, and the next with his heart.
I could not relate to the author's faith or desire for a family. I also questioned his desire to make Peety a service dog so he could take him everywhere, wondering whether it's was a bit self-serving. Towards the end of Walking with Peety, O'Grey poses a question: "Does anyone else ever stop and think that maybe, just maybe, God put all these dogs for a reason?…Somebody up there wants us to know that none of us – no matter how messed up or alone or tired of life we think we are – not one of us ever has to walk alone."
At first read, I took this quote to mean dogs are here for us, and I don't subscribe to that notion at all. Reading it again, I think maybe it means dogs are here with us, and that is a thought I am already behind. All animals have their own interests at heart. Living with a dog myself, I know what it can mean to feel love and companionship from someone with four legs. I'm grateful that many people come to understand their own compassion from their relationships with companion animals. Peety led O'Grey to eventually replace all his leather clothing with synthetic versions; a shift from plant-based for health to vegan for the animals.
O'Grey was over fifty when his life changed, a reminder that it is never too late for a shift. I've said before that origin stories are so important; we are all walking unique paths and a common thought threads us together. I'm glad Peety was loved. I'm glad his human was, too. Walking with Peety is worth the read, and I hope it opens hearts and minds.
---
Thanks to Grand Central Publishing for a review copy of this book!
SaveSave
SaveSave