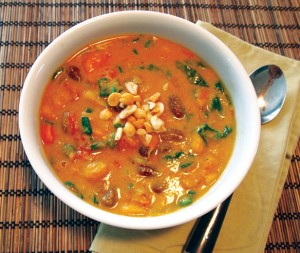 I came up with this recipe a few years ago after receiving a gigantic cheese pumpkin from my co-op. It was so huge I think I was able to make three batches of this soup with it. (And this recipe makes a lot of soup!)  If you don't have time to roast and puree a pumpkin, you can add canned pumpkin and the non-dairy milk right to the soup as it's cooking.
I've made this dish several times in cooking demos, and it's always a big hit with the crowd – with both vegans and omnivores. The recipe makes a lot of soup, but it's been my experience that it's devoured pretty quickly!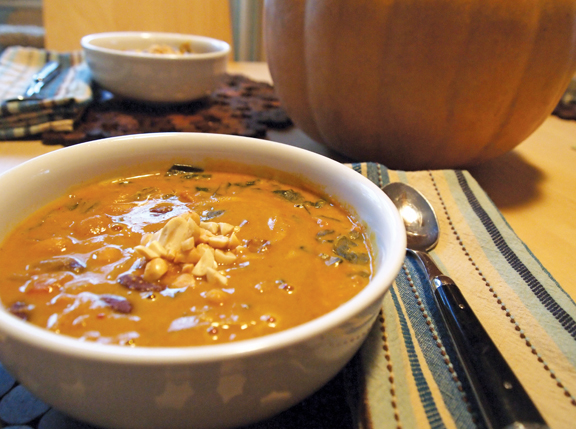 Curried Pumpkin Peanut Soup
Ingredients:
4 – 5 cups cheese pumpkin, kabocha squash or butternut squash (about 3 pounds); peeled, seeds removed and cubed
2½ cups vegetable broth
1 large onion, diced
1 tablespoon fresh grated ginger
2 large carrots, sliced
14 ounces diced tomatoes
3 cups cooked kidney beans
2/3 cup natural creamy peanut butter
2 teaspoons curry powder
½ teaspoon sea salt
2 ½ cups non-dairy milk
4 cups fresh spinach, chopped
¼ cup roasted peanuts, chopped
Directions: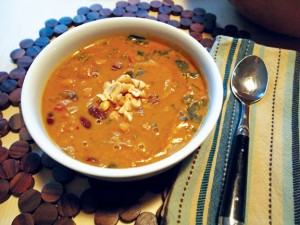 Preheat oven to 400 degrees. Line a baking sheet with parchment paper and roast the pumpkin for 20 minutes, until fork tender. Let cool slightly.
While the pumpkin is roasting, combine the broth, onion, ginger, carrots, tomatoes, and kidney beans in a large pot over medium heat and cook for about 30 minutes, until the vegetables have softened.
Add the curry powder and peanut butter and mix to incorporate.
Place the cooled pumpkin and non-dairy milk in a food processor or high speed blender and process until smooth, stopping to scrap down the sides if necessary.
Add the pureed pumpkin to the pot with the vegetables and stir to combine. Stir in the sea salt. Cook for several more minutes, until heated throughout. Add more broth or non-dairy milk if the stew seems too thick.
Stir in the spinach and cook until it's just wilted.
Transfer to bowls and top with chopped peanuts. Enjoy!
Serves 6 to 8