Nothing makes this vegan fashion blogger happier then discovering new vegan fashion brands.  The more vegan options available, the less excuses people have for not choosing compassionate fashion.  So I was thrilled when I was approached by PETA approved vegan fashion brand Veggani to test drive one of their vegan handbags.  Founded in 2015 in my home town of Philadelphia, Veggani is a company with an ethical mission at the heart of their brand.  They believe in "…the protection of people, animals and the planet" which just makes me feel all warm inside, knowing that there are people and companies like this out there working to make the world a better place.
According to Veggani's website "… founder and Designer Laura de Waal's goal in starting Veggani was to create stylish, functional, quality handbags that do not compromise our ethics but promote them. All of our handbags reflect our commitment to being socially responsible, environmentally conscious and animal friendly. One of the key elements of VEGGANI's mission is to not only help impoverished communities, but to bring awareness to them. We use high quality materials that are often recycled and/or repurposed. When possible, we work with and support smaller factories and artisan workshops. These efforts are never easy and require much more attention, research and heart than creating a product without a conscious."
Ahhhhhhh.  So good…right?  You know what's even better?  Veggani's bags are beautifully made, chic and fashion forward.  Let me show you!
The lovely people at Veggani let me choose which bag of theirs I wanted to review, so I chose the Malala.  Let me start by saying that I love this bag so much that it is now my everyday bag.  The Malala is a versatile bag as it is both a shoulder bag and a backpack.  How cool is that?   Veggani uses high quality vegan leather that is incredibly soft yet durable and the lining of the Malala is made from recycled plastic bottles.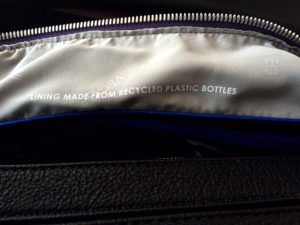 To top it all off, some of the metal hardware on their handbags was created by artisans in a remote village in the Xieng Khouang Province in Northern Laos. The artisans create the hardware using recycled aluminum from Vietnam war era bombs.  There is so much good going on here people and it's so good looking!
I am always a fan of pockets and compartments and the Malala does not disappoint.  There are two separate main zipper compartments, a smaller side zip pocket (perfect for my keys) and an internal zip pocket along with two pouches for cellphones.  The straps fit comfortably whether you are wearing it as a shoulder bag or a backpack.  Below is a photo of the Malala as a backpack.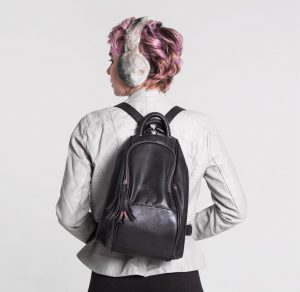 There are several other fabulous bags available at  http://www.veggani.com/ from shoulder bags to clutches, all are vegan, all are made with compassion for people, animals and the environment.  So head on over to Veggani and show some love to our new vegan fashion friends.  Your closet will thank you!