Creamy Vegetable Noodle Soup from The Meatless Monday Family Cookbook by Jenn Sebestyen will keep you warm and cozy on chilly winter days. It's a little bit like potpie filling, but in soup form. This easy recipe is vegan with a gluten-free option.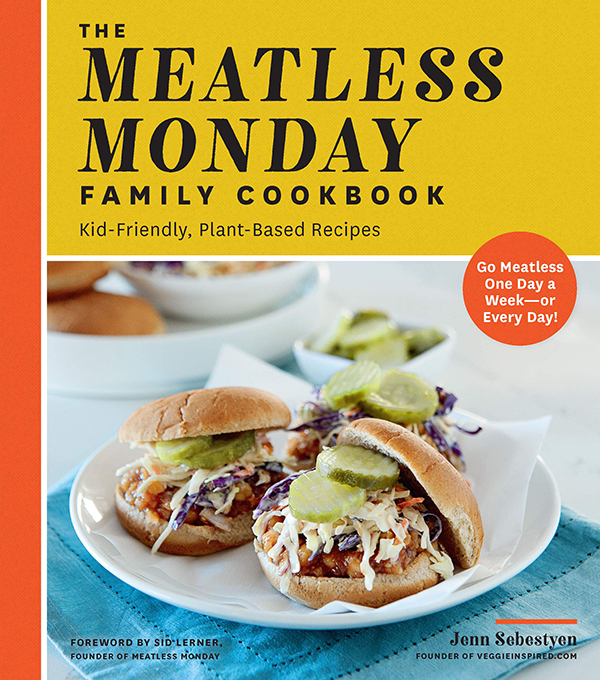 The Meatless Monday Family Cookbook
I'm super excited to share The Meatless Monday Family Cookbook by my friend Jenn Sebestyen with you today! You probably know Jenn and her delicious recipes from her blog Veggie Inspired.
This cookbook is full of over 100 tasty plant-based recipes. It's great for those who are just dipping their toe into the world of vegan food and want to eat meatless one day a week. Jenn starts the book with lots of tips for newbie vegans, including pantry essentials and handy kitchen tools.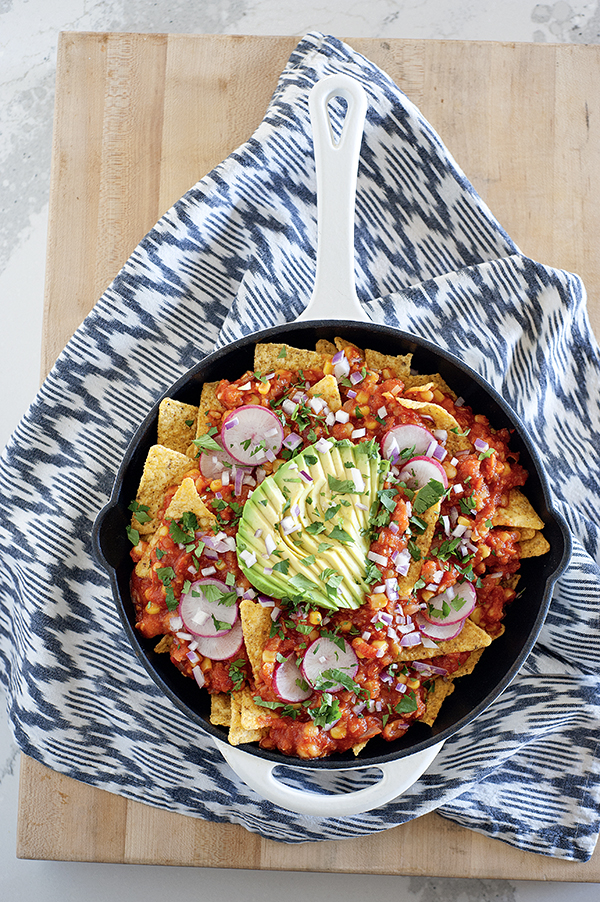 Seasoned vegans who eat meatless every day of the week will find lots to love here, too. I mean, who can turn down Skillet Chickpea Chilaquiles or a bowl of Very Berry Quinoa Salad?
As you might have guess from the name, this cookbookis full of family-friendly recipes. Jenn has veganized omnivore classics—like Potpie Noodle Casserole and Butternut Squash Mac and Cheese—that will please even the pickiest of eaters. She includes lots of tips on how to the get the kids involved in cooking, too.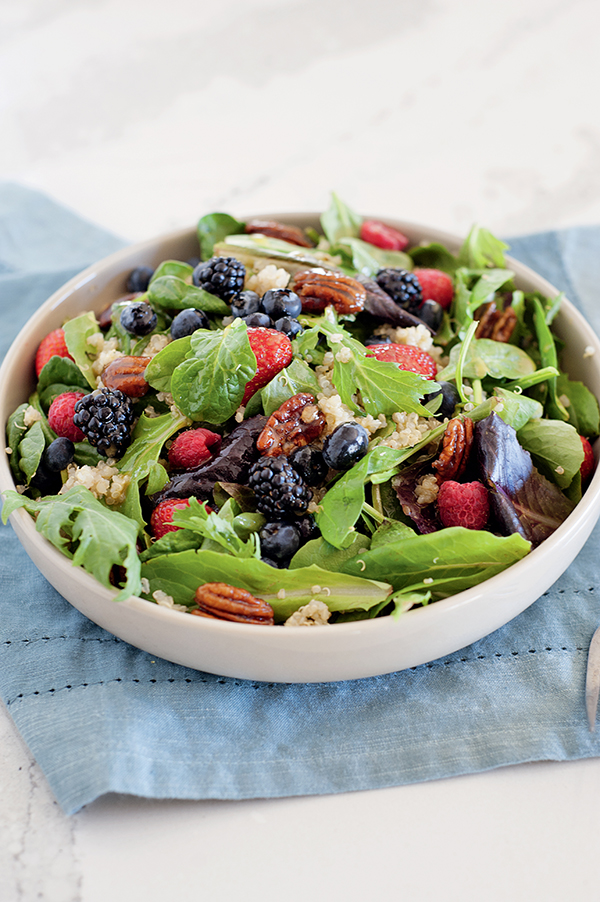 Chapters in The Meatless Monday Family Cookbook Include:
Getting Started with Meatless Monday
Hearty Soups
Satisfying Salads
Loaded Handhelds
Bountiful Bowls
Perfect Pasta
One Pot Wonders
Comforting Casseroles
Center Stage Vegetables
Breakfast for Dinner
Sauces and Staples
If you're looking for family friendly vegan recipes, or if you're hoping to add more meatless dishes into your diet, this is the cookbook is for you!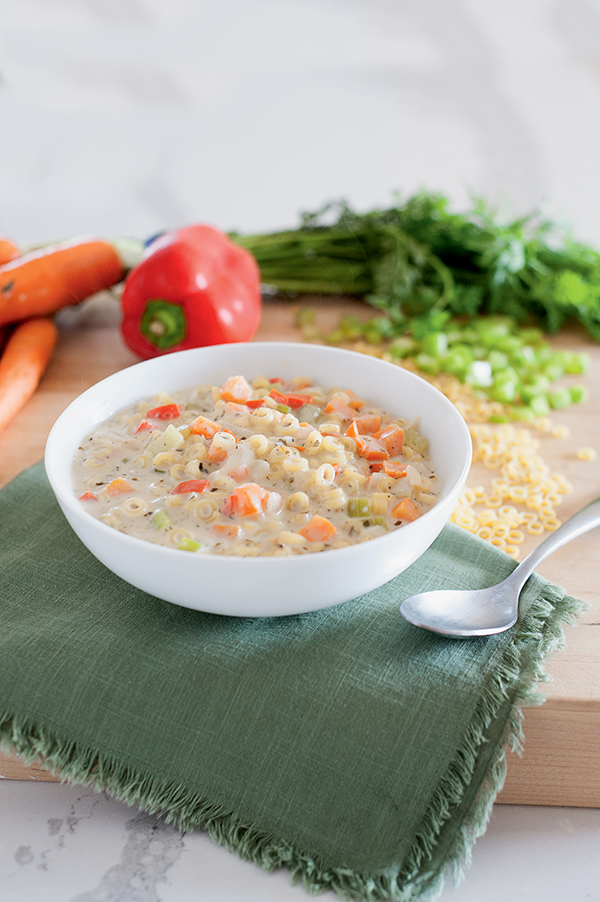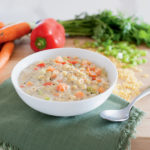 Creamy Vegetable Noodle Soup
This thick and creamy soup reminds me a bit of potpie filling, but in soup form. The small ditalini pasta rings are the same size as the diced vegetables, making it easy for kids to scoop up a bit of everything in one bite. Made with no cream, not even homemade cashew cream, you won't believe how creamy it is. You'll be heading back for seconds in no time.
Ingredients
2

tablespoons

(28 ml) olive oil

1

yellow onion

diced

3

carrots

peeled and diced

2

ribs celery

diced

1

red bell pepper

seeded and diced

1

tablespoon

(1 g) dried parsley

1

teaspoon

dried basil

1

teaspoon

dried thyme

½

teaspoon

dried dill

1¼

teaspoons

salt

or to taste

¼

cup

(32 g) all-purpose flour

2

cups

(475 ml) unsweetened almond milk or milk of choice, divided

4

cups

(946 ml) low-sodium vegetable broth

2

tablespoons

8 g nutritional yeast

(optional)

1

cup

(110 g) dry ditalini pasta or similar small pasta shape

(gluten-free, if desired)
Instructions
Heat the olive oil in a soup pot over medium heat. Add the onion and sauté for 5 to 6 minutes until soft and translucent. Add the carrots, celery, and bell pepper and sauté 4 to 5 minutes until starting to soften.

Add the parsley, basil, thyme, dill, salt, and flour and stir to combine, scraping up any bits of flour on the bottom of the pot. Slowly pour in ½ cup (120 mof milk while whisking continuously, again scraping up any bits of flour on the bottom; a flat whisk is convenient here, but a balloon whisk will work as well. Whisk until the flour is completely incorporated.

Add the remainder of the milk, vegetable broth, and nutritional yeast, if using. Whisk to combine. Increase the heat to high and bring to a boil. Once boiling, add the pasta, and then reduce the heat to medium-low and simmer for 10 to 15 minutes until the pasta is cooked through, stirring often to prevent the pasta from sticking.

Taste and adjust the seasoning, if necessary.
Recipe Notes
Swap it! For a gluten-free option, use brown rice flour instead of all-purpose flour.
Recipe from The Meatless Monday Family Cookbook by Jenn Sebestyen. Reprinted with permission from Jenn Sebestyen and Fair Winds Press, an imprint of Quarto Publishing Group USA Inc. © 2019.