It's easy to find crackers without animal ingredients, unless of course, your favorite crackers happen to be the cheesy ones. Now you can make vegan cheesy crackers at home, complete with the delicious crunch and flavor you love but without the animal ingredients and additives.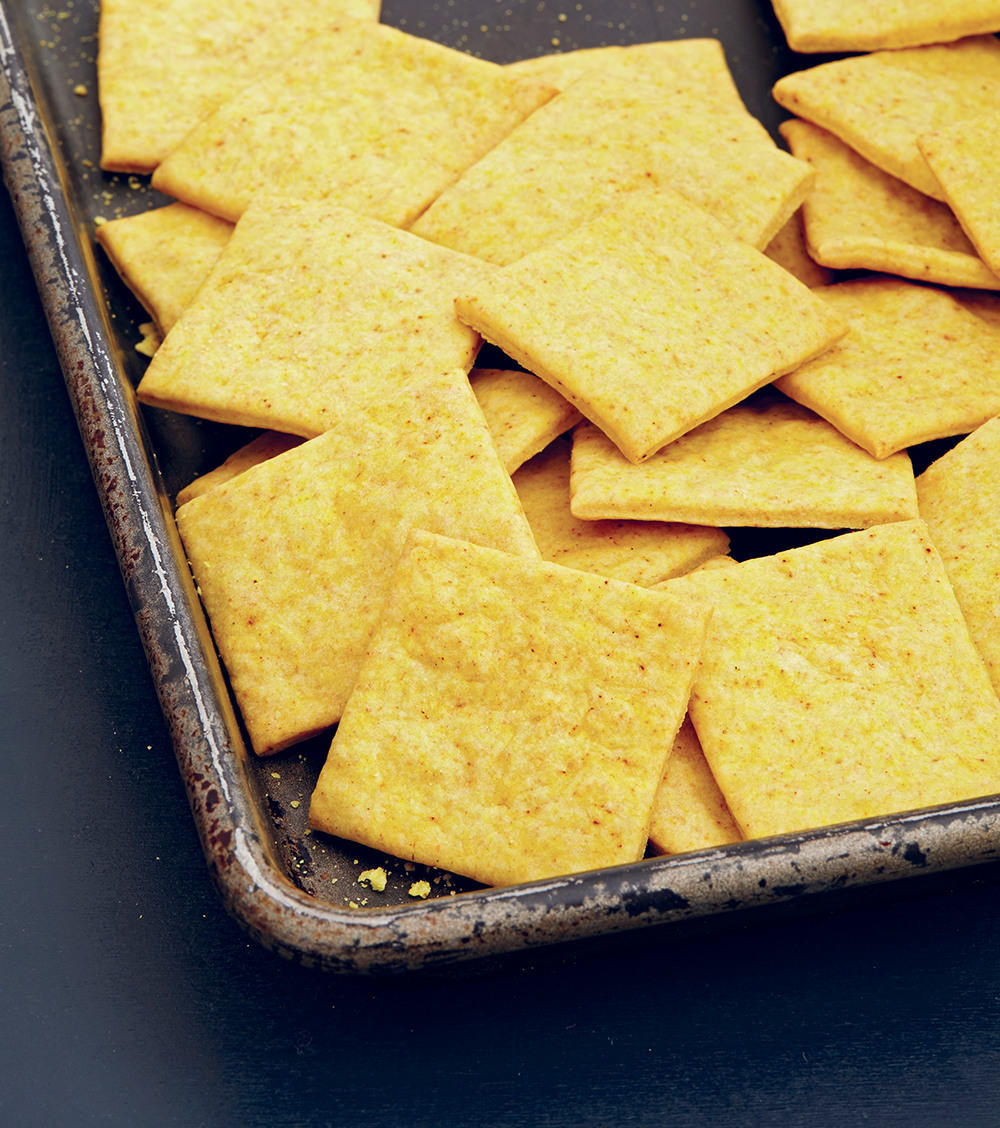 Cheesy Crackers
Author:
Serves:
about 40 crackers
Ingredients
1 cup all-purpose flour
2 tablespoons nutritional yeast
½ teaspoon baking powder
½ teaspoon salt
½ teaspoon garlic powder
¼ teaspoon smoked paprika
⅛ teaspoon turmeric
1 tablespoon olive oil
1 tablespoon vegan butter
1 teaspoon fresh lemon juice
5 to 6 tablespoons cold water, or more as needed
Instructions
Preheat the oven to 350°F. In a medium bowl, combine the flour, nutritional yeast, baking powder, salt, garlic powder, smoked paprika, and turmeric. Mix well. Add the olive oil, butter, and lemon juice, mixing with a fork until the dough is fine and crumbly. Add the water a tablespoon at a time until the dough becomes cohesive.
Transfer the dough to a piece of parchment paper large enough to fit a large rimmed baking pan. (You can use a Silpat instead, if you have one.) Top the dough with another sheet of parchment paper and roll out the dough until thin, measuring about 11 x 13 inches. Transfer the parchment paper and rolled-out dough to a large rimmed baking sheet. Remove the top sheet of parchment paper and cut the rolled dough into 2-inch squares. If desired, remove any uneven pieces of dough from around the edges and press together into a small disk and roll it out to get more crackers that are a uniform size. (Otherwise, you'll have a few partial crackers from around the end to nibble on!)
Bake for 15 to 17 minutes, or until the crackers are baked but not browned. The color should be golden. Cool completely on the baking sheet. These crackers keep well for a week in a sealed container at room temperature.
Notes
Text excerpted from [url href="http://amzn.to/2w58v4c" target="_blank" rel="nofollow"]VEGANIZE IT![/url] © 2017 by Robin Robertson. Reproduced by permission of Houghton Mifflin Harcourt. All rights reserved. Photo by William and Susan Brinson.