Back when I was a vegetarian (long before going vegan), I used to douse my salads with store-bough Caesar dressing. Although I was already becoming adept at reading labels, I never read the ingredients list on the back of the bottle, because I never expected there to be any type of meat in a salad dressing. Somehow I discovered that Caesar salad was usually made with anchovies, which horrified me, so I checked the ingredients – and there they were. I gave up Caesar dressing that day, and once I went vegan I gave up my beloved creamy salad dressings altogether. I thought I'd have to live without them up forever, but then I discovered how magical blended cashews are. I'm back to dousing my salads in Caesar dressing, but now I make it myself.
I've used olives in this recipe to mimic the saltiness of anchovies (and because I love olives), but you can omit them if you prefer. If you're eating this salad as a meal rather than a side dish, feel free to add some oomph, such as shredded carrots, sliced purple cabbage, or diced bell peppers. You may have some dressing leftover, depending on the size of your head of lettuce.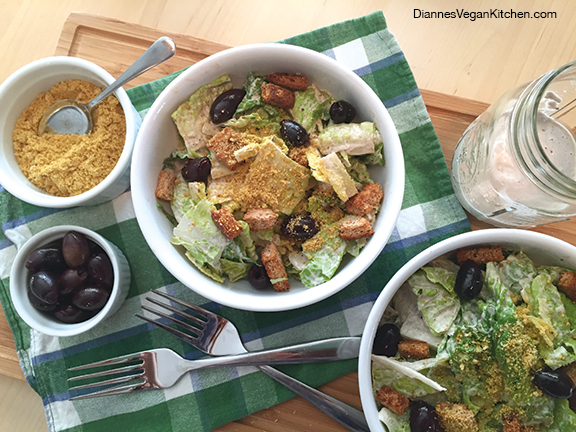 Vegan Caesar Salad
For the Croutons
2 or 3 slices of bread (I used Eziekiel whole grain bread)
2 tablespoons olive oil
1 teaspoon Italian seasoning
1/4 teaspoon garlic powder
For the Dressing
1/2 cup raw cashews, soaked for at least 2 hours, rinse and drained
1/2 cup water
1 tablespoons apple cider vinegar
1 tablespoons lemon juice
1 tablespoons seaweed flakes, such as kelp or nori
1 garlic clove
1 teaspoon mellow white miso
2 teaspoons capers
1/2 teaspoon ground mustard seed
1/2 teaspoon garlic powder
1/2 teaspoon white pepper
1/2 teaspoon sea salt
For the Parmesan
2 tablespoons almond meal
2 tablespoons nutritional yeast
1/2 teaspoon sea salt
For the Salad
1 large head (or two small heads) of romaine lettuce, washed
1/4 cup black olives, optional
Preparation
Preheat your oven to 350° and line a baking sheet with parchment paper.
Break the bread into cubes and place them into a medium mixing bowl.
Drizzle the olive oil over the bread, and sprinkle with the spices and salt. Use your hands to toss everything together.
Place the bread pieces on the baking sheet in a single layer. Bake for 15 to 20 minutes, flipping the pieces at the halfway mark. Check often to make sure they don't burn.
While the croutons are baking, mix together all of the salad dressing ingredients together in a high speed blender or food processor. Set aside
Mix together the parmesan ingredients together in a spice grinder or in the dry blade of a Vitamix. Set aside.
Tear or chop the lettuce, and place in a large bowl. Toss the lettuce leaves with the dressing using salad tongs our your hands. Add the croutons and olives, if using, and sprinkle the parmesan on top.
Serves 4 as a side dish or 2 as a main dish.