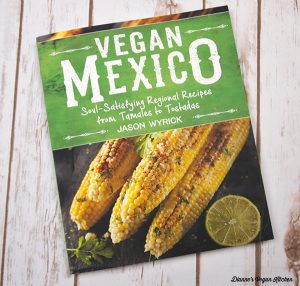 I don't know anyone who doesn't like Mexican food. Rice, beans, chiles, avocados, tortillas… what's not to love? Getting Mexican food at restaurants can be a bit of pain though, because everything comes drenched in cheese and sour cream, and you always need to be on the lookout for hidden animal ingredients like lard and beef stock. Fortunately, Jason Wyrick has just made it a lot easier for vegans to make delicious vegan Mexican food at home with his aptly titled new cookbook Vegan Mexico.
Just as he did with his first book Vegan Tacos, Jason spent a lot of time researching Vegan Mexico. He begins the book with a bit about the history of Mexican food, explaining the basic foods that can found in each region of the country, and what their influences are. Did you know that most of the cuisine in the Veracruz area of Mexico has a Spanish influence, whereas dishes in Baja are designed to cater to American and Japanese tourists? I found it pretty interesting to learn that most of the food in Mexico was plant-based until the Spanish brought animal foods with them in the early 1500s. They also spices, citrus fruits, onions, and garlic with them.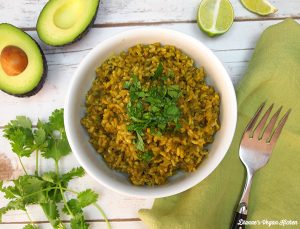 Jason also spends some time explaining the different ingredients that are used in Mexican cooking, so if you don't know the difference between a poblano chile and a Serrano chile, you'll learn. He also has a list of kitchen equipment that's handy to have when cooking Mexican food. I can vouch for my tortilla press – it's inexpensive and I've made the most amazing homemade tortillas with it, using Jason's recipe, of course!
The recipes in Vegan Mexico start with Corn, Beans, Rice, and Chiles, where you'll learn the basics of cooking with these integral ingredients. Jason explains how to dry chiles, as well as how to roast and fry them. The next chapter is full of salsas and dips, which accompany many of the book's dishes.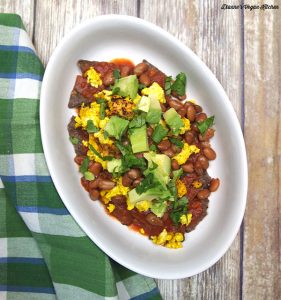 The food in Vegan Mexico includes street food, tacos (of course!), sandwiches, enchiladas, tamales, salads, soups, main dishes, grilled fare, snacks, breads, drinks, and sweets. If you don't know the difference between a chalupa, a gordita, and a chimichanga, don't worry – Jason will explain what they are. There's also a glossary that includes some of the Spanish terms that are used throughout the book.
When Vegan Mexico arrived, I sat down with it and marked off what I wanted to make. I found myself marking off most of the recipes in the book! I decided to start with Green Rice, since green is my favorite color. This dish was extremely flavorful, and it was the perfect accompaniment to many of the other dishes I made. The recipe makes a big batch, but it kept well in the fridge, and we ate it with our meals throughout the week.
Next up were the Tostadas with Hearts of Palm Ceviche, which came together in a flash. These were a refreshing change from the usual tacos on a Tuesday. (I think #TostadaTuesday should be a thing!) Served with Mexican Street Corn, it was the perfect meal. I don't know how I'm ever going to be able to go back to eating plain corn on the cob after slathering it with the easy-to-make dressing in Jason's recipe!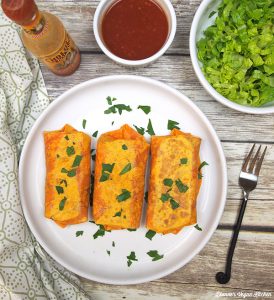 Before Vegan Mexico, I didn't know that chimichangas are basically deep-fried burritos. I made Northern Mexican Chimichangas using mushrooms and zucchini and I dry fried them, rather than frying them in oil, so I guess they were somewhere between a chimichanga and a burrito. I also didn't know that a torta is a sandwich – for some reason I thought it was a dessert. The Fried Shredded Seitan Sandwich was incredibly delicious. I opted to bake the bread rather than fry it for this dish, but I don't the flavor was compromised at all.
There are several breakfast recipes in Vegan Mexico, and I was anxious to try some of them. I have no idea how to pronounce chilaquiles, but I do know that the breakfast version is delicious! It consists of tortilla chips smothered in salsa, and topped with tofu scramble and beans. Tofu and Tortillas in Red Salsa, or tofu rancheras, is a similar dish, and equally as tasty.
The recipes in Vegan Mexico are versatile. You can make your own tortillas, or you can use store-bought. You can make one of Jason's salsas, or you can use your favorite jarred salsa. If you're into DIY, you can even make your own chili powder, or you use your favorite store-bought variety. I went the lazy person's route, and I used store-bought for most things, so all of the dishes that I made came together very quickly. Jason also includes options, so if you can't find cactus paddles, you can use zucchini. If you're gluten-intolerant, you can use portobellos instead of seitan. Some of the fried recipes I made also had options for baking, for those worried about oil.
Vegan Mexico is the perfect book for anyone who wants to cook authentic Mexican food at home!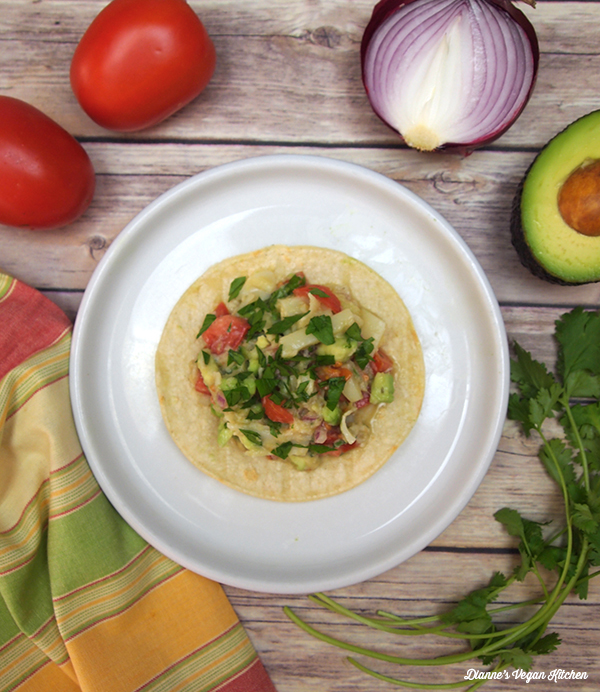 Review reprinted with permission from Dianne's Vegan Kitchen.
We have a copy of Vegan Mexico for one lucky winner. Follow the instructions below to enter. U.S. residents only, please. Contest ends at midnight on December 4th. Good luck!