If you love chili, then you're going to love these vegan Three Bean Chili Burgers from The Best Veggie Burgers on the Planet by Joni Marie Newman!
Vegan Burgers
When I first gave up meat, there weren't too many pre-made veggie burgers available. Green Giant made one, and it was just a little better than the cardboard box it came in. Despite the bland flavor, I bought them often and got creative with different toppings. There was also a really tasty burger from Yves, but I would have to drive to the mall to get them from the closet-sized health food store that used to be sandwiched between Sbarro and Macy's.
Back then, I hadn't even thought to make my own veggie burgers. It would have been too daunting of a task. What are they made with? How do I cook them? I've learned a lot since then, and I now know that making homemade veggie burgers is pretty easy. And thanks to Joni Marie Newman, there are dozens of ways to make them!
The Best Veggie Burgers on the Planet
The Best Veggie Burgers on the Planet is a revised version of Joni's 2011 book of the same name. It contains more than 30 new recipes and features healthier options, and fewer processed ingredients. Joni's also some new trends in the world of vegan cooking, including jackfruit and aquafaba.
This book is packed with over 100 vegan recipes, and I'm sure you're wondering if it's really possible to make that many veggie burgers. When you're as creative as Joni is, the answer is yes there are!
Recipes range from traditional beefy kinds of burgers to veggie-based, bean-based, and gluten-free burgers. There are even breakfast burgers! Yes, burgers for breakfast! I'm looking forward to sinking my teeth a Denver Omelet Burger, and I can't wait to try the Quiche Lorraine Burger!
If you find yourself craving fast food meals from your pre-vegan days, Joni can help. There's a chapter dedicated to fast food favorites with recipes for The Better Mac, Filet without Fish, The Fake-O-Nator, Now That's a Whopper! and more!
There are also recipes for everything you need for your burger! Make your own non-dairy mayo, mustard sauce, BBQ sauce, and even buns! You'll find lots of recipes for sides, including classic fries and onion rings, too.
Joni also includes budget-friendly tips and instructions for making burgers in air fryers and slow cookers.
Chapters in The Best Veggie Burgers on the Planet Include:
Burgers for Breakfast
Traditional Beef-y Burgers
Bean-Based Burgers
Tofu-Based Burgers
Grain-Based Burgers
Vegetable-Based Burgers
Gluten-Free Burgers
Fast Food Favorites
Loose "Meat" Sandwiches
Fixin's
Buns and Breads
Fries and Sides
If you want to learn to make the most deliciously creative vegan burgers at home, then The Best Veggie Burgers on the Planet is the book for you!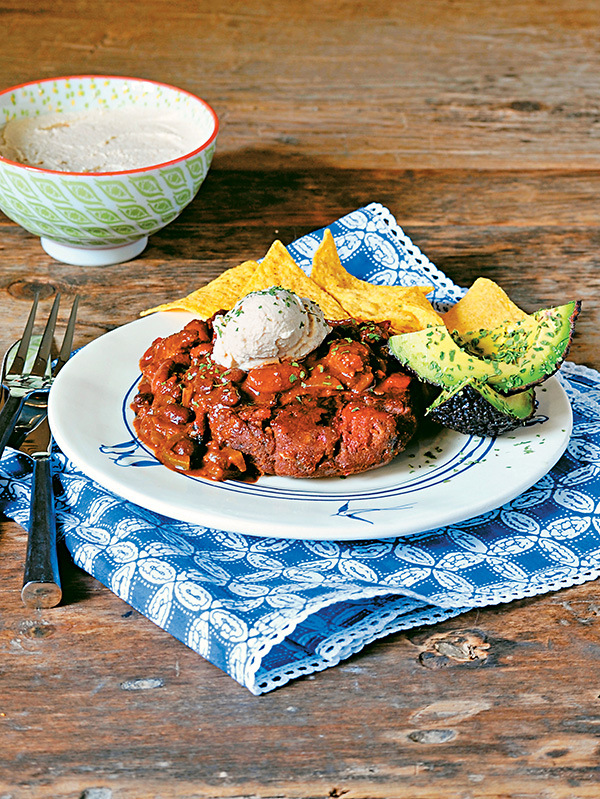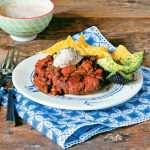 Three Bean Chili Burger
I love a big bowl of chili. This recipe starts with a nice chili recipe, and then whammo, turns it into a burger!
Ingredients
FOR CHILI:
1

can

(15 ounces [425 g]) pinto beans

with liquid

1

can

(15 ounces [425 g]) black beans

with liquid

1

can

15 ounces [425 g] red or kidney beans

with liquid

4

ounces

(112 g) jarred jalapeño slices

6

ounces

(170 g) tomato paste

1

tablespoon

(6 g) black pepper

2

tablespoons

(16 g) garlic powder

1

tablespoon

(8 g) onion powder

1

tablespoon

(8 g) chili powder

1

teaspoon

ground cumin

1

cup

(160 g( finely diced white or yellow onion

1

cup

(235 ml) vegetable broth

Salt

1

cup

(96 g) TVP granules
FOR BURGERS:
1/2

recipe

chili

above

2

cups

(240 g) masa harina flour

(I like Maseca brand)

1/3

cup

(80 ml) vegetable oil, plus more for frying

(optional)
Instructions
To make the chili: In a large stockpot, combine all the beans, jalapeño, tomato paste, pepper, garlic powder, onion powder, chili powder, cumin, onion, broth, and salt to taste. Mix well.

Bring to a boil, lower the heat to a simmer, cover, and let simmer for at least 20 minutes. Uncover, stir in the TVP granules, remove from the heat, recover, and let sit for at least 10 minutes. Let cool. Divide the recipe in half and refrigerate one half for another use.

To make the burgers: In a large bowl, add the flour and the 1/3 cup (80 moil to the reserved half of the chili. Knead together well.

Form into 8 patties. Cook as desired.

To fry, panfry in oil over medium heat for about 5 minutes per side, or until a golden crispy crust forms. Alternatively, use your Air-Fryer at 375°F (190°C) for 16 to 18 minutes. To bake, bake at 350°F (180°C, or gas mark 4) on a baking sheet lined with parchment or a silicone baking mat, lightly covered in foil to prevent drying out, for about 15 minutes per side, until firm and warmed all the way through.

Serve open-faced with the remaining chili and all of your favorite chili toppers, such as non-dairy sour cream, diced onion, guacamole, scallions, and, if it tickles your fancy, some Nacho Cheesy Sauce
Recipe Notes
© 2019 Quarto Publishing Group USA Inc.
Text © 2011, 2019 Joni Marie Newman
Photography: Celine Steen and Kate Lewis (cover)