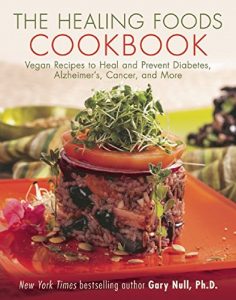 I grew up suffering from terrible allergies, sinus problems, and sinus headaches. I was shuffled from doctor to doctor, and put on medication after medication with no relief. In the late 1990s or early 2000s, I stumbled up on a PBS special with Gary Null, it kick-started my interest in nutrition and natural healing. I started listen to his daily radio show on WBAI during my work lunch breaks, and I carried his book Get Healthy Now around with me so that I could read whenever I had the chance. I soon went vegan, partly because of what I read about dairy's affects on the body and partly because of what I was learning about the dairy and egg industries. My headaches went away almost overnight, and my sinus and allergy problems almost all went away. People noticed I was feeling better and started asking me for help with their own health, too, so I decided to become a health coach. I'm sure I would have eventually ended up on this path without Gary Null's help, but it probably would have taken a lot longer.
When I was asked if I'd like to review Gary Null's new book The Healing Foods Cookbook, I jumped at the opportunity. I knew that he was quite prolific (in fact, I've lost track of the amount of books he's written), but I had no idea that he wrote cookbooks. He's a busy guy!
By now, I think that most of us know that the Standard American Diet creates inflammation in the body that can lead to serious diseases. For many, eating healthy foods seems boring, tasteless, or even daunting, if you're not used to cooking with plant-based ingredients. The Healing Foods Cookbook: Vegan Recipes to Heal and Prevent Diabetes, Alzheimer's, Cancer, and More is chock-full of more than 150 gourmet whole-foods plant-based recipes that are anything but boring. These recipes are loaded with nutrient-dense foods as well as flavor. They're easy to make, and they use ingredients that easy to find at just about any grocery store. Most ingredients are recognizable, even for vegan newbies, but for those that may seem unfamiliar, there's a glossary to explain what they are.
The chapters in The Healing Foods Cookbook include Salads, Small Plates, and Sides; Soups; Main Meals; Desserts; Juices, Shakes, and Smoothies; and Dips and spreads. The recipes range from veganized classics like Tofu Marsala, Grandma's Stuffed Cabbage, and Sumptuous Banana Cream Pie to creative new dishes like Shiitake Basil Mashed Potatoes, Sweet Potato-Broccoli Cream Dip, and Mushroom Cream Hijiki. With so many recipes, picky eaters and die-hard meat-eaters are sure to find dishes they love!
The Healing Foods Cookbook also includes information on various foods and supplements, with information on their healing properties. Protocols for various diseases and ailments are included, as well. For each one, you'll find a list of dietary dos and don'ts along with suggested supplements.
The Healing Foods Cookbook is perfect for anyone who wants to learn to cook healthful, plant-based foods, those looking to prevent or reverse disease, or anyone who just wants to add some delicious new recipes to their repertoire.

Curried Chickpeas with Veggies
Serves 2
Ingredients
1 cup turnips, cut in 1⁄4-inch thick pieces
One half pound broccoli florets, cut into bite size pieces
One 15-ounce can garbanzo beans 1 cup barley
2 tablespoons fresh chives, minced
2 tablespoons toasted sesame oil 2 teaspoons curry powder
3 tablespoons lemon juice
1 teaspoon sea salt
Directions
1. To cook barley, combine with 5 cups water in a small saucepan and cook covered over moderate heat for 25 to 30 minutes.
2. Steam turnips and broccoli for 8 to 10 minutes
3. Toss together in a large mixing bowl with remaining ingredients and mix until well combined.
4. Serve warm.
Cinnamon Papaya Pudding
Serves 2
Ingredients
3 ounces papaya
3 ounces oatmeal, cooked 6 ounces apple juice
3 tablespoons yacon syrup
2 tablespoons Ener-G Egg Replacer
1/4 teaspoon cinnamon
3 ounces apples, cut into 1/2-inch cubes
Directions
1. Combine all ingredients in a blender except apples. Puree until smooth.
2. Transfer to saucepan and cook over medium heat for about 5 minutes.
3. Add apples and stir.
4. Chill in refrigerator for 45 minutes or until set.
5. Serve chilled.
Recipes reprinted with permission from The Healing Foods Cookbook by Gary Null.
I have a copy of The Healing Foods Cookbook for one lucky winner. Follow the instructions below to enter. U.S. residents only. Contest ends  at midnight on Monday, October 17th. Good luck!