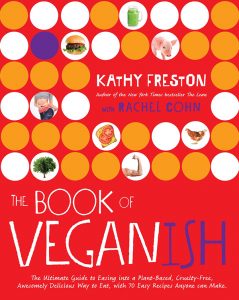 I was pretty young – probably around 7 or 8 years old – when I questioned why people eat cows and pigs and keep cats and dogs as pets. I was told that that's the way it is. When I was a teenager, I discovered that there actually were people who didn't eat meat. I wanted to become one, but living with a very non-vegetarian family, I didn't know how to go about making the change. If only had The Book of Veganish back then!
In The Book of Veganish, Kathy Freston teams up with young adult novelist Rachel Cohn to show socially aware teens and college students the benefits of adopting a plant-based diet and why "vegan" is more than a label – it's about aligning food with values.
The Book of Veganish deals not only with the whys and hows of going vegan, but also with just about every situation that can arise, such as dealing with parents and friends, and eating out. Staying healthy on a budget, what supplements to take, and how deal with that protein questions are also covered.
Of course, a big part of going vegan is dealing with food and exactly what to eat, and The Book of Veganish covers that, too. With a formula for blending the perfect smoothie, how to order vegan food at fast food restaurants, and how to deal with lunch in the school cafeteria, there are tips for dealing with just about any and all situations that arise around food.
And of course, there are recipes! The Book of Veganish contains 70 simple recipes that are easy to make and contain easy-to-find ingredients. You'll find recipes for breakfast, lunch, dinner, snacks, and desserts, along with drool worthy photos taken by Nicole Axworthy. These recipes will definitely please everyone in the family – even those who swear they could never give up meat.
The Book of Veganish is the perfect resource for teens and young adults who want to go vegan, and their families and friends could benefit from reading it as well. If my family had read this wonderful book all those years ago, I would have gone vegan much sooner!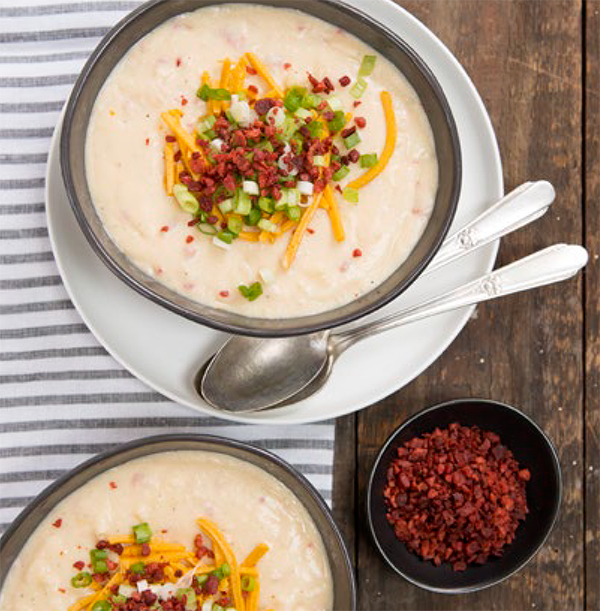 Loaded Potato Soup
This soup is a total sneak. It has a really satisfying taste like baked potatoes, but even when loaded with indulgent toppings (if you so choose), it's still low in fat; and be­cause it's vegan, it has no cholesterol.
Makes 4 servings
Ingredients
1 pound baking potatoes (2 or 3 large)
1 tablespoon extra-virgin olive oil
4 slices vegan bacon (such as LightLife Smart Bacon), chopped, or ½ cup vegan bacon bits (see Note)
3 cups plain, unsweetened almond or soy milk
½ teaspoon onion powder
½ teaspoon garlic powder
½ teaspoon smoked paprika (optional)
Salt and ground black pepper
2 tablespoons minced scallions
¾ cup vegan sour cream and/or shredded vegan cheddar cheese, such as Daiya brand (optional)
Preparation
Preheat the oven to 400°F. Place the potatoes in the oven and bake until soft, 45 to 60 minutes. Re­move the baked potatoes and set aside to cool slightly.
(If using bacon bits, you can skip this next step.) While the potatoes are baking, heat the oil in a skil­let over medium heat. Add the vegan bacon and cook until lightly crisped. Do not overcook. Remove the bacon from the skillet and set aside.
Heat the milk in a large saucepan over medium heat.
Halve the baked potatoes lengthwise. Use a spoon to scoop out the insides of the potatoes and add them to the hot milk along with the onion powder, garlic powder, and smoked paprika (if using). Use a potato masher or wooden spoon to mash the pota­toes in the pot, leaving them somewhat chunky. Season with salt and pepper to taste.
Simmer over medium heat until thickened, stirring frequently to keep it from scorching or burning, about 10 minutes. Stir in half the bacon. Ladle the hot soup into bowls and sprinkle with the remaining bacon, the scallions, and, if desired, the sour cream and/or vegan cheddar.
Note: If using bacon bits such as Bac-Os, you can eliminate the olive oil and the sauté step—the bacon bits can be added to the soup "as is."
Reprinted from The Book of Veganish by arrangement with Pam Krauss Books/Avery, a member of Penguin Group (USA) LLC, A Penguin Random House Company. Copyright © 2016, Kathy Freston and Rachel Cohn. Recipe by Robin Robertson. Photograph by Nicole Axworthy.
We have a copy of The Book of Veganish for one lucky person. Follow the instructions below to enter. U.S. residents only, please. Contest ends at midnight on September 25th. Good luck!