The addition of nutritional yeast and a little vegan butter give grits a cheesy flavor without the cheese. If you like, you may add 1/2 cup of shredded vegan cheddar for more cheesy goodness. The amount of time needed to cook the greens will depend on the type of greens you use and whether they're fresh or frozen.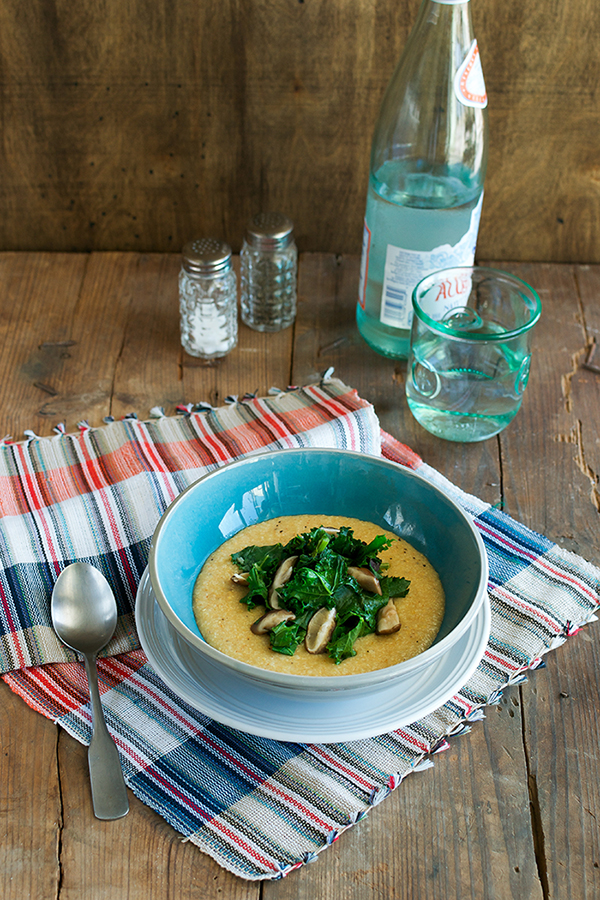 Cheesy Grits and Greens with Smoky Mushrooms
Ingredients
1 cup quick-cooking grits
2 teaspoons vegan butter (Earth Balance)
2 tablespoons nutritional yeast
Salt and ground black pepper
1 tablespoon olive oil
4 scallions, minced
3 garlic cloves, minced
8 ounces mushrooms (any kind), sliced or chopped
1 teaspoon liquid smoke
½ teaspoon smoked paprika
2 cups chopped fresh or frozen greens (thawed and squeezed, if frozen)
½ cup vegetable broth
Instructions
Cook the grits according to package directions. (It should take about 5 minutes for quick-cooking grits.) Stir in the butter, nutritional yeast, and salt and pepper to taste. Keep warm.
While the grits are cooking, heat the oil in large skillet over medium heat. Add the scallions and garlic and cook 1 minute. Add the mushrooms and cook 3 minutes to soften. Sprinkle on the liquid smoke and smoked paprika, tossing to coat. Add the greens and broth, and season with salt and pepper to taste. Cook, stirring, until the greens are tender, 4 to 8 minutes, depending on the greens. Taste and adjust the seasonings, if needed. To serve, top the grits with the mushroom mixture.
Notes
Recipe from
Cook the Pantry
© 2015 by Robin Robertson. Photo by Annie Oliverio. Used by permission Vegan Heritage Pre)ss LLC.