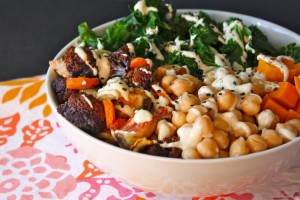 Like many of my favorite foodies, I have an affection for a "hearty bowl" loaded with a grain, veggies, & a creamy sauce. This kind of creation commonly goes by the name of the "Buddha Bowl." Why? I'm really not sure, but I have a few ideas…
It is said that the Buddha embodies "grace, balance, compassion, wisdom, determination & courage." So, how can I liken that to a bowl of veggies & grains? Well, for starters, I think those principals apply to many who are exploring the path of veganism. It certainly applies to what I am trying to cultivate & practice in my own life. I'm not saying that the consumption of said bowl is a one way ticket to enlightenment, but I think the popularity of the "Buddha Bowl" in vegan culinary circles speaks to the kind of gentle message of well-being that we are trying to convey through our thoughtful plant based diets. And I know I certainly feel more graceful & balanced when I consume a meal that is composed of organic, locally grown vegetables, whole grains, & plant based protein.
Furthermore, in the winter months, it is important to consume lots of warm, gently cooked & nourishing foods. We need to arm ourselves with healthy goodness to ensure winter wellness, as 'tis the season for flus, coughs & colds. When I received my latest local organic produce delivery, I was instantly inspired by all of the brightly colored winter veggies that appeared before my loving eyes – purple cauliflower, chioggia beets, carrots, baby turnips & kale. The building of this "bowl," I decided to use quinoa as my grain base (yes, yes, I know it's actually a seed!), & included some steamed kale & sweet potato to serve along side the roasted veggies. For a bit of extra protein, I tossed in some chickpeas. The dish was then drizzled with my absolute favorite lemon tahini sauce. Seriously – this sauce! It's amazing on EVERYTHING! I am also guilty of eating it straight out of the bowl with a spoon. For a final bit of goodness, I added a generous shake of gomashio.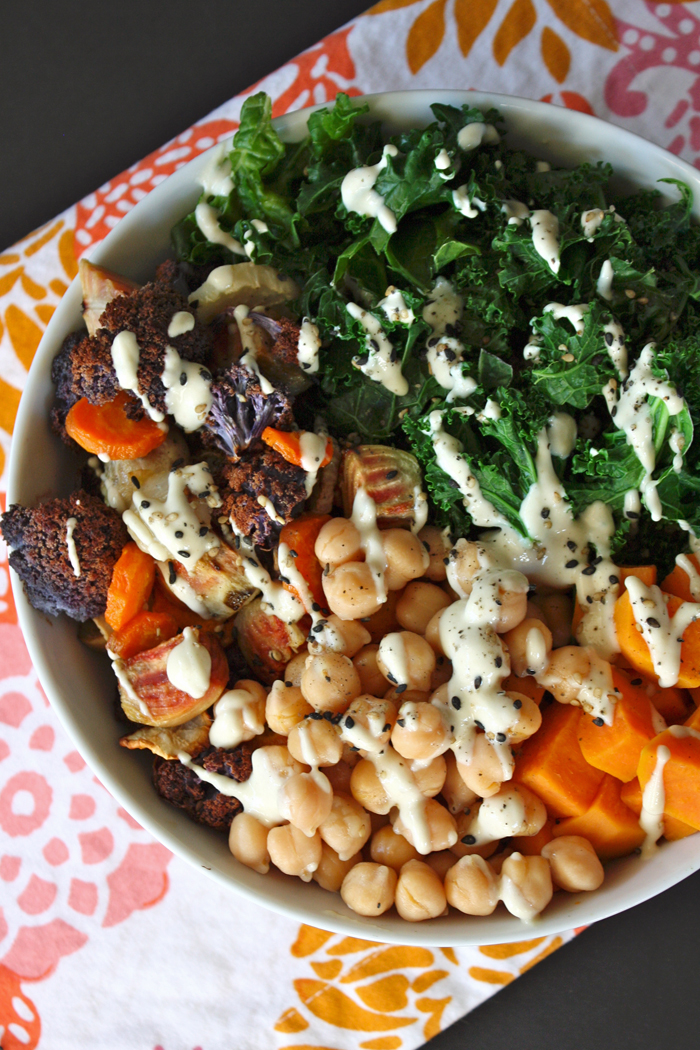 Winter's Bounty Buddha Bowl
***Serves 2 hungry people, or 4 as a side
Ingredients: 
Roasted Winter Vegetables:
1 small cauliflower crown, cut into florets
2 medium carrots, cut into rounds
1 bunch baby turnips, peeled & cut into rounds
2 medium chioggia beets, peeled & quartered
2 Tbsp. avocado oil
pinch of Himalayan pink sea salt
 Seasoned Quinoa: 
1 cup dried quinoa
2 cups pure water
1 teaspoon vegetable "Better Than Bouillon" paste
Lemon Tahini Sauce (courtesy of Katie's Healing Kitchen): 
1/4 cup tahini
1/4 cup fresh lemon juice
2 tablespoons roasted garlic olive oil
1/4 teaspoon Himalayan pink sea salt
2 tablespoons water
Additional add-ins – 
1 cup cooked chickpeas
1 large sweet potato, peeled, cubed & steamed until tender
1/2 bunch of kale, de-stemmed, chopped & steamed
 Instructions:  
Preheat oven to 400F. Line one cookie sheet with parchment paper.
In a large bowl, combine cauliflower, carrots, turnips & beets, drizzle with oil & add a pinch of salt, mix well to coat. Place mixture on rimmed cookie sheet or roasting pan. Cook for 30-40 minutes, stirring once in between.
While vegetables are roasting,  add quinoa & water to a medium saucepan, bring to a boil. Add bouillon paste, & turn heat down to low. Cover & cook for 15-20 minutes, until water is absorbed & quinoa is fluffy. Set aside to cool.
Meanwhile, prepare the sauce by combining tahini, lemon juice, oil, salt, & water in a blender, or shake together in a jar.
Serve roasted vegetables on top of quinoa, then add kale, chickpeas, & sweet potato & generous drizzle of sauce on top. Add some gomashio if desired.
Enjoy & namaste!