I like to have a pie themed vegan potluck on March 14th every year. That's Pi Day (3.14) for those of you who might not be nerdy enough to know. This dish might be on the potluck menu this year, as it combines a few of my favorite things – caramelized onions, mushrooms, and tofu ricotta – all in one tasty little package.

Caramelized Onion and Mushroom Tart
Serves 6
For the crust
2 cups spelt flour
1 teaspoon sea salt
1/4 cup olive oil
1/2 cup cold water
For the filling
2 tablespoons olive oil
2 tablespoons balsamic vinegar
1 ½ teaspoons salt, divided
1 large yellow onion, sliced (about 2 cups)
10 ounces cremini or button mushrooms, sliced
14 ounce package of firm tofu, pressed and drained
1/4 cup lemon juice
1/2 cup nutritional yeast
2 tablespoons vegetable broth
2 cloves garlic
1 teaspoon dried basil
2 cups baby spinach, loosely packed
¼ cup chives, chopped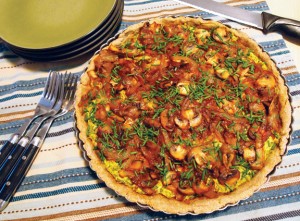 Preparation
Pre-heat oven to 350 degrees.
In a large pan over medium high heat, cook the sliced onions with the olive oil, the balsamic vinegar, and ½ teaspoon of salt. Cook for 15 to 20 minutes, stirring often. The onions will brown become fragrant. Add the mushrooms an another ½ teaspoon of salt, and cook for another 15 to 20 minutes, until they also become brown and fragrant.
While the vegetables are cooking you can make the crust. Oil a 10 inch pie pan or tart pan. Combine the crust ingredients in a bowl and kneed until mixed. Roll onto a lightly floured surface until it's about 13 inches across. Gently pick up the dough and place in the pie pan. Press into all of the corners and trim away an excess. Set aside.
In a food processor, blend together the tofu, lemon juice, olive oil, garlic, broth, basil, ½ teaspoon salt and nutritional yeast. Process until the mixture is thick and looks like ricotta cheese. Add more vegetable broth if the mixture is too thick. Add the spinach and pulse until it's mixed in.
To assemble the tart, spread the tofu mixture in the bottom of the crust. Add the mushrooms and onions, pressing down slightly with a spatula.
Cover the tart with foil and cook for 30 minutes. Remove the foil and bake for another 15 minutes.
Sprinkle the chopped chives over the tart before serving. Slice and enjoy!