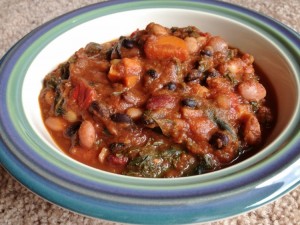 This pumpkin and kale chili is wonderfully thick and nutritious.  The pumpkin adds a depth of flavor to this smoky chili, and the hint of thyme pairs perfectly with the chili powder and cumin.  The kale, along with the other veggies, makes this a fall must have and with this making so much your freezer will be full throughout!
Pumpkin Kale Chili
Ingredients
1 C Dried Pinto Beans
1/2 C Dried Black Beans
1 Bag Dried 18 Beans
2 Cans Tomato Sauce
1 Container Pacific Foods Low Sodium Vegetable Stock
1 Can Libby's 100% Pure Pumpkin
1/2 Large Onion
1 Pkg Whole Mushrooms, washed and chopped small
1 Red Bell Pepper, washed and chopped small
3 Medium Carrots, washed and chopped small
1 Tbsp Chili Powder
1 Tbsp Cumin
1 Tbsp Black Pepper
2 Tsp Thyme
1 Tsp Paprika
1 Bunch Kale, washed and chopped
Preparation:
1.  Soak beans in large pot over night.  Be sure to fill pot to three inches above beans.
2.  Rinse beans and pick through taking out skins or bad beans.  Pour beans into large pot.
3.  Add all ingredients except kale.
4.  Bring to a boil them turn to lowest setting for 2 1/2 hours, stirring occasionally.
5.  Add kale 30 minutes before done.  Stir throughout.
6.  Portion out and enjoy!!