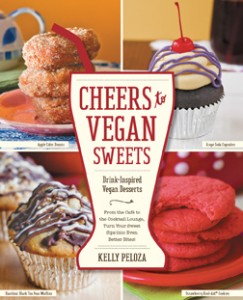 This festive Chocolate-Nog Cupcakes recipe is from Kelly Peloza's new book Cheers to Vegan Sweets, which features 125 deliciously fun drink-inspired dessert recipes. It's a cookbook that takes readers on a delicious tour of cafés, cocktail bars, and lemonade stands, where all the drinks come in dessert form. Imagine your morning vanilla hazelnut mocha re-imagined as a muffin, or relax on the beach with a margarita biscotti, or stop by the bar and order your brew in Guinness cake form. Instead of sipping your drink, now you can indulge in it!
Author and vegan baker extraordinaire Kelly Peloza has carefully formulated each recipe to deliciously highlight the flavors of its drink counterpart. From Apple Cider Doughnuts to Chai Spice Baklava to Gingerbread Stout Cake, you'll be amazed at how deliciously well your sips transform into sweet, satisfied—and vegan!  – bites!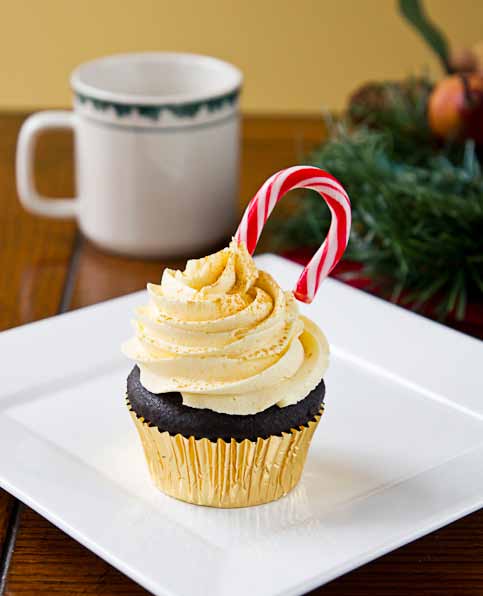 Chocolate-Nog Cupcakes
Vegan eggnog can be found in traditional and specialty grocery stores during the holiday season. Vegan eggnog cupcakes deserve a place alongside the peppermint, anise, and spicy flavors of the holiday dessert table.

For the cupcakes:
1 cup (235 ml) vegan eggnog
1 teaspoon (5 ml) apple cider vinegar
¾ cup (150 g) granulated sugar
1/3 cup (80 ml) canola oil
¼ teaspoon vanilla extract
½ teaspoon rum extract
2 tablespoons (30 ml) rum
1¼ cup (156 g) flour
1/3 cup (40 ml) cocoa powder
¾ teaspoon baking soda
½ teaspoon baking powder
¼ teaspoon salt
¾ teaspoon nutmeg
For the frosting:
1/3 cup (67 g) vegan shortening
1/3 cup (75 g) vegan margarine
2½ cups (300 g) powdered sugar
3 tablespoons (45 ml) vegan eggnog
¼ teaspoon rum extract
¼ teaspoon nutmeg
To make cupcakes:
Preheat oven to 350°F (180°C, or gas mark 4). Line a cupcake pan with 12 liners. Combine vegan eggnog and vinegar and set aside for 3 minutes to curdle.
Stir together vegan eggnog/vinegar mixture, sugar, oil, extracts, and rum in a large mixing bowl.
Sift in flour, cocoa powder, baking soda, baking powder, salt, and nutmeg. Whisk together until just combined. Fill cupcake liners halfway with batter. Bake for 18 minutes, or until the tops are firm. Transfer to a wire rack to cool.
To make frosting:
Cream together margarine and shortening.
Gradually sift in powdered sugar, mixing as you go. Add in vegan eggnog, rum extract, and nutmeg.
Whip frosting with a hand or stand mixer for 6 to 8 minutes, until fluffy.
Pipe or spread frosting on cooled cupcakes. Garnish with sprinkles or candy canes.
Replacing the Alcohol
Replace the rum with ¼ teaspoon rum extract.
Yield: 12 cupcakes