I know, I know. Just about every vegan blogger has a recipe for Cauliflower Buffalo Bites at this point, so this is nothing new. I have been faced with the task of creating five different canapés for a Rouxbe project, and I wanted to try my hand at these spicy snacks, since I've never actually made them before. They were so good that I had to stop myself from eating them all before I took photos. What's one or two (or twenty) missing from the batch in photography, right? I can just add a few more in with Photoshop, can't I?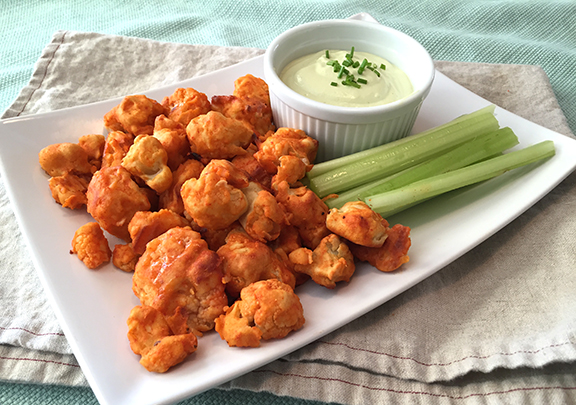 Buffalo Cauliflower Bites with Cashew Ranch Dressing
For the Buffalo Bites:
1 cup chickpea flour
1 cup non-dairy milk
2 teaspoons garlic powder
2 teaspoons onion powder
½ teaspoon sea salt
1 head of cauliflower cut into bite-sized florets
2 tablespoons grapeseed or coconut oil
½ cup hot sauce, such as Frank's or Cholula
For the Cashew Ranch Dressing:
1 cup raw cashews, soaked for at least 2 hours, drained and rinsed
½ cup non-dairy milk (more if needed)
2 tablespoons lemon juice
2 tablespoons apple cider vinegar
1 tablespoon fresh chives or dill
1 tablespoon fresh parsley
1 garlic clove
1 teaspoon onion powder
1 teaspoon garlic powder
½ teaspoon sea salt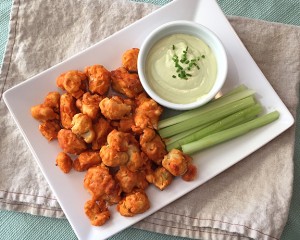 Preparation:
Preheat your oven to 450° and line a baking sheet with parchment paper.
Mix together the flour, non-dairy milk, garlic powder, onion powder, and sea salt in a large bowl. Toss the cauliflower in the mixture, and then lay the pieces on the baking sheet.
Bake for 15 to 20 minutes, flipping them once. They're ready when they start to brown and the batter isn't doughy.
Remove the cauliflower from the oven and let the pieces cool for a few minutes. Whisk together the oil and hot sauce. Toss the cauliflower pieces in the hot sauce, and then place them back on the baking sheet.
Bake for another 10 to 15 minutes.
While the cauliflower is baking, mix together the dressing ingredients in a high speed blender.
Serve the cauliflower bites hot from the oven with celery and the ranch dressing. Enjoy!