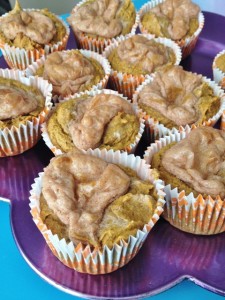 The best thing about fall, besides the cooler weather and watching the leaves change color, is all things pumpkin!  Pumpkin bread, pumpkin chili, pumpkin carving . . . and most of all pumpkin cream cheese muffins from one of the best coffee houses around!  Here are the healthful, vegan and gluten-free Pumpkin Cream Cheese Muffins.
Pumpkin Cream Cheese Muffins
Ingredients:
2 Cup Bob's Red Mill Oat Flour
1 1/4 Cup No Cal Sweetener
1 Tablespoon Baking Powder
1 Teaspoon Baking Soda
1 Tablespoon Pumpkin Pie Spice
1 Cup Libby's Pure Pumpkin
2 Teaspoon Vanilla Extract
1/2 Cup So Delicious Almond Plus Original Milk
1/4 Cup Tropical Traditions Virgin Coconut Oil
1 Container Vegan Cream Cheese
1/2 Cup No Cal Sweetener
1 Teaspoon Cinnamon
Preparation:
Heat oven to 375 degrees.
Mix dried ingredients in large mixing bowl.  Make well in dried mix.
Mix wet ingredients in smaller bowl then pour into well.  Mix well.
Wash smaller bowl then add cream cheese, 1/2 cup sweetener and cinnamon.  Mix together well.
Line muffin tins with paper cups or spray with Pam.
Split batter between all 12 cups.
Using a smaller spoon, take a spoonful of cream cheese mixture and squish down into the middle of batter and scrape off with your finger.  This is the messy part.
Bake for 25 minutes.  Let cool and enjoy!
Makes 12 Muffins