I love kitchen gadgets and small appliances.  (I think I love them a little too much, because I find myself browsing the gadgets in kitchen stores a little too often, even though I have fully stocked kitchen.) So when Tribest offered to send me a dehydrator and juicer to review, I jumped on it. I already have a dehydrator and a juicer, but I'm not too happy with either, so I wanted to see how Tribest's appliances stacked up.
I was impressed with the Tribest Sedona Express, SD-6780 Food Dehydrator straight out of the box. At 12″ wide x 14″ high x 17.5″ deep, it's more compact that other dehydrators, so it was easy to find a home for it in my kitchen. I love that it has a hinged glass door with a magnetic closure. It comes with 11 metal trays for dehydrating, and a metal closed tray to collect any food particles that fall to the bottom of the unit. I love that the trays are metal, not plastic, because that means that I don't have to worry about anything nasty from the plastic leeching out into my food. The best part, however, is the digital display that's in the front of the unit.
I couldn't help to compare the Sedona Express to my old dehydrator, which is basically a plastic box with a fan on the back. It's bulky and noisy, and the opaque plastic door has to be completely taken off to check on the food being dehydrated. The temperature and timer dials are on the top of the until at the back, making them difficult to see, so I wind up pulling the entire unit out to set the controls, which is kind of a hassle. So even before turning it on, I liked the Sedona Express more than the one I already had.
So how would the Tribest Sedona Express do once it's in action? The first thing I did was make a big batch of my favorite kale chips. The digital controls were super easy to work. You simply set the temperature and dehydrating time and hit the "start" button. The display allows you to pick either Celsius or Fahrenheit. It also has a "fast" dehydrating mode, for those days when you really want your kale chips NOW. There's the option of combo dehydrating, starting out on the fast mode and then switching over to the raw mode. This will come in handy when dehydrating foods like tomatoes, because they do need to be started out on a higher temperature.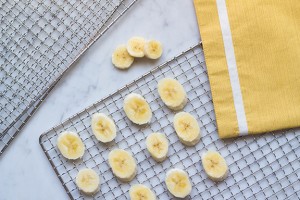 Once the kale was all chipped up and ready to go, I started up the Tribest Sedona Express, and was amazed at how quiet it was. No more shouting at people while the dehydrator is running! I loved that I could check on the chips through the glass door. When I did open the door to see how crisp they were, the fan turned off and an interior light came on. The fan turned back on when the door was closed again. How nice is that?!
Clean up of the Tribest Sedona Express after my kale chips were done was a breeze! I just took the bottom closed tray out and dumped the crumbs in the trash, and then wiped the metal trays clean. In my old, now completely shunned dehydrator, little kale chip bits always fall to the back on the bottom, which means either tipping the whole until up to dump them out, or pulling out the vacuum cleaner. (Yes, it had to be vacuumed occasionally.)
The Tribest Sedona Express, SD-6780 Food Dehydrator gets two thumbs (and all of the rest of my fingers and toes) up from me!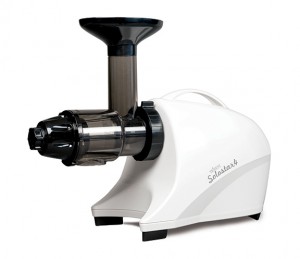 While my kale chips were dehydrating, I pulled out the Tribest Solostar 4, SS-4200-B, Horizontal Slow Masticating Juicer to make a green juice. Much like with the dehydrator, I love the juicer's compact horizontal design. My other juicer is tall, and it doesn't fit under my cabinets, so it's been exiled to the back of a closet. Also much like the dehydrator, it was very easy to use. Simply snap everything together and get juicing!
Because the Tribest Solorstar 4 is a masticating juicer, fruit and veggies need to be cut into small pieces. As the name "Slow Masticating Juicer" implies, it takes a little longer than other juices, but that's because it's working to get every last little drop of juice out of your produce. The slow speed also means that you're getting more nutrients out of your fruits and vegetables because there's less heat and oxidation than other juices. I didn't have any problems with my veggies jamming while juicing, but there is a reverse feature just in case that does happen. All of the juicer parts that food comes into contact with made from BPA- and BPS-free materials, you don't have to worry about harmful chemicals leaching into your juice, which is another bonus.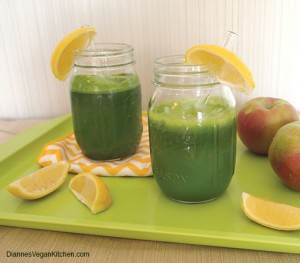 The Tribest Solorstar 4 comes with additional screens and nozzles that can be used to make grind coffee beans, fresh garlic, ginger, onions, or peppers as well as make fresh pasta, rice cakes, or bread sticks. I didn't try to make pasta with it yet, but I did use it to grind coffee. It made a little bit of a mess because the grounds shot out of the front, but it did grind the beans nicely.
Tribest Solostar 4, SS-4200-B, Horizontal Slow Masticating Juicer also gets two thumbs up from me! I am very impressed with both Tribest products, and I'll definitely look to them the next time I'm in need (or want) of a new kitchen gadget!
Tribest has very generously donated a Sedona Express Dehydrator and a Solostar 4 Juicer for two lucky winners this week. One winner will be picked for each item. Due to shipping restrictions, this contest is open to U.S. residents only. Please follow the instructions below to enter. Contest ends at midnight est on November 3rd. Good luck!