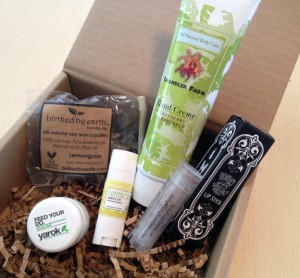 I've fallen in love with the Vegan Cuts Beauty Box! A box full of cruelty-free beauty products sent to my door every month – what more could a chic vegan ask for? When my box arrives, it's almost like Christmas all over again, as I open it with anticipation and discover the treasures inside.
I have sensitive skin, and perfumy products tend to give me a headache, so I have a hard time finding beauty products that work for me. With the Vegan Cuts Beauty Box, I get to try sample sized products to see if I like them, and I can buy the full-sized counterpart from the Vegan Cuts Marketplace if I do. Each box contains 4 to 7 products, all of which are 100% cruelty-free which means they contain no animal ingredients and aren't tested on animals. Most of the products are organic and contain natural ingredients. 
February's Beauty Box contained:
Medusa's Makeup Lipstick  – This creamy lipstick is made with a blend of nourishing plant waxes. It glides on smoothly and is long lasting. These brightly colored lipsticks come in pretty black tubes with a rose shaped topper. 
Chandler Farm Hand Creme – My Beauty Box came with Cranberry and Mandarin scented hand cream, and I was a little nervous about it, because like I said, scented products can give me a headache. This wonderfully rich cream smelled so tasty that I ended up spreading it all over my arms and legs – with no consequences other than soft skin.
Greenbody Tea Tree & Rosemary Deodorant – This handcrafted deodorant is moisturizing, aluminum-free, and made from natural ingredients such as cocoa seed butter, corn starch, and essential oils. It's designed to detox dead skin cells, toxins, and chemical residues and restore the body's glands and pores to their natural functions. 
Yarok Whipped Hair Paste – This styling product is made with organic botanicals such as aromatic lemon peel and invigorating peppermint and is a nice change from sticky hair gels.
Molly Rose Lip Balm – This moisturizing lip balm glides on smoothly and tastes great! My Beauty Box came with Mint Truffle flavored balm, which is made with coconut oil, cocoa butter, vegetable wax, mint essential oils and cocoa solids. Other Molly Rose lip balm flavors include pickles and ice cream, chocolate coconut, and coconut lime.
Birthed by Earth Tea Light Candle – This little candle is made with 100% soy wax and pure essential oils and contains an all-natural wick. It's non-toxic and burns cleanly, so you can be assured it's not emitting toxins into the air.
The Beauty Box is available as a monthly subscription, which means that a box of new goodies gets delivered to your door every month without an effort from you. If you like the samples in your box, you can order their full-sized counterpart from the Vegan Cuts Marketplace.