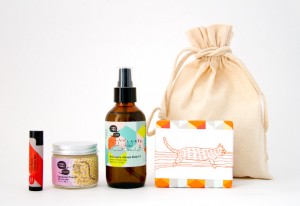 When Melisser from Vegan Cuts asked if I wanted to try the Meow Meow Tweet Holiday Gift Pack, I had to say yes. With a name like Meow Meow Tweet, How could I resist?
If you subscribe to the Vegan Cuts Beauty Box, you may already be familiar with Meow Meow Tweet products, as they've been featured in the past. If you're not familiar with their products, you should definitely get acquainted! Meow Meow Tweet is a vegan natural beauty product company located in Brooklyn. They develop all of their goods as if they were culinary dishes, and most of them do seem good enough to eat.  Each concoction is made in small batches with organic, food-grade plant oils and butters, steam-distilled essential oils, and wildcrafted botanicals. All Meow Meow Tweet products are vegan, which means that they don't contain carmine, beeswax, honey, palm oil, lanolin, or tallow. They also don't contain nasty chemicals like parabens, petrolatum, sulfates or phthalates. And if all of that isn't enough to draw you in, their products all come in eco-friendly packaging decorated with cute drawings.
The Meow Meow Tweet Holiday Gift Pack contains:

Tangerine, Basil & Poppy Seed Bar Soap – I'm not much of a bar soap person (I usually use body wash), but I love this soap! I almost didn't want to remove the wrapper, just because it was so cute. It seemed more like unwrapping a large piece of candy than a body care product, because this soap really does look good enough to eat – and with ingredients like tangerine, basil and poppy seeds, I have to admit I was a little tempted to have a little nibble! I love how the poppy seeds in this bar exfoliate and massage while I'm washing.

Lavender Deodorant Cream – I'm going to admit something personal here, and there's no delicate way to put it: I sweat. A lot. And I quite often can sense a bit of an… well let's say… odor. I've been on the hunt for a good deodorant for years. I've tried just about everything on the shelves of Whole Foods, and I've even used several very unnatural brands from the local drugstore, but I haven't been happy with any of it. I was reluctant to try a cream that that had to be rubbed into the underarm, but I figured there was no harm in trying one more deodorant. I am happy to report that I have finally found a winner! I will most definitely be using this cream from now on. It's made with essential oils that have antibacterial and antifungal properties, as well as baking soda, arrowroot, and kaolin clay to help with dryness and freshness. Simple perfection.

Cinnamon Mint Lip Balm – I have a lot of lip balms, but none of them glide on as smoothly as this one does. There's no sticky, waxy residue either. Another winner!

Grapefruit Rosemary Body Oil – This oil protects the entire body from the harsh elements of Mother Nature. It can be massaged into dry skin, added to a warm bath or used to tame frizzy hair. It's also soothing on tired hands and feet at the end of a long day. I've rubbing a few drops into the ends of my hair to prevent harsh winter winds from causing breakage and split ends, and despite the fact that it is an oil, my hair never feels oily. 
Everything comes packaged in a reusable canvas gift bag. The Meow Meow Tweet Holiday Gift Pack is perfect for any chic vegan on your holiday gift list and can be purchased through the Vegan Cuts Marketplace.