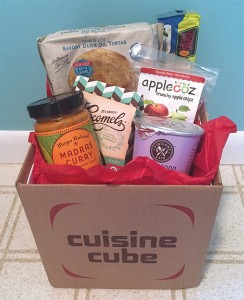 I love discovering new vegan brands and products, but it seems that the stores around me are slow to bring stock them. Fortunately, I just discovered Cuisine Cube.
Cuisine Cube is a subscription service that delivers a box of six or seven full-sized gourmet food items from small companies to your door each month. Cuisine Cube is not a vegan company, but they do offer a vegan subscription box. I'm really impressed that they have a vegan option, because it means that they realize vegans want yummy food as much as everyone else, and it also means that they're paying attention to small vegan companies.
I was recently sent a Vegan Cuisine Cube to try, and it was a lot of fun. I wasn't sure what to expect when I opened it, but I was pleased to find both snacks and meal items. There were products that I've tried before, products that I've seen in the store but have never picked up, and products that were totally new too me.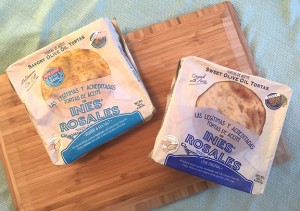 My Cuisine Cube contained two packages of Ines Rosales Tortas. I had never heard of them before, and wasn't quite sure what they were, I was pleasantly surprised to find that they're a very tasty large cracker or flatbread. They pair with vegan cashew cheese perfectly. I only wish there had been more!
The box also contained Maya Kaimal Madras Curry Simmer Sauce and Organic Planet Soba Noodles, both of which I've seen in the store but have yet to purchase. They were both pleasant, and made for a quick dinner. I was happy to find a package of Cocomels, which I've had before. They're amazing, so I'm not going to complain about getting something that's not new to me! There was also a package of Appleooz, which make a nice afternoon snack, as well as a container of Vigilant Eats Superfood Cereal, which is a perfect breakfast on-the-go.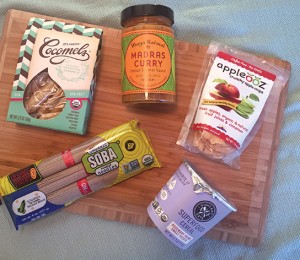 Cuisine Cube plans start plans start at $34.99, which is a lower price than you'd pay for everything at a grocery store, and shipping is free. It's a fun way to discover new products and I'd recommend it to any foodie. Visit their website to sign up for the vegan box. Gift subscriptions are available and holidays are just around the corner! Use the coupon code 15OFFCHICVEGAN for $15.00 off any subscription.
Cuisine Cube has generously offered to give 8 vegan boxes away. Simply sign up for their mailing list here: http://eepurl.com/bBWqNz