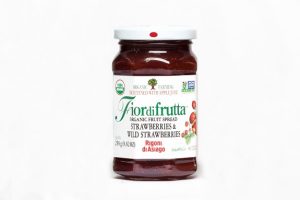 If you're looking for a simple and delicious fruit spread for your morning toast or lunchtime sandwich, give Rigoni di Asiago's line of Fiordifrutta Organic Fruit Spreads a try!
Rigoni di Asiago
My first Rigoni di Asiago review was for their new dairy-free chocolate spread and since then, I've also gotten the chance to try their Dolcedi.  Now I'm lucky enough to try out their Fiordifrutta organic fruit spreads.
It will probably come as no shock that I like Rigoni di Asiago because each time I have tried their products I have been blown away.  Not just because they taste good but because they use the simplest of ingredients and techniques to create delicious products.
When I was asked if I wanted to give their Fiordifrutta organic fruit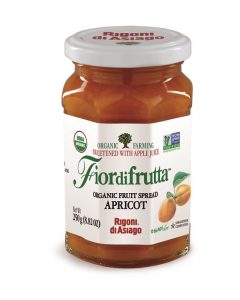 spreads a try, I jumped at the chance.  Why?  Because for the longest time I had been craving a peanut butter and jelly sandwich.  Yup.  I just wanted a good old PB & J.  The reason I hadn't had one for the longest time was because the jelly/jam I found at the store just wasn't all that great.  It was either full of less than stellar ingredients, didn't taste that good or had loads of sugar.  My mother-in-law makes her own jam that is phenomenal, but because I only see her a few times a year, my stash gets low quick.
Enter Fiordifrutta.
I got to try their Fig, Strawberries & Wild Strawberries, and Apricot spreads, but there are plenty of other options.  They are fantastic!  The only ingredients in these spreads are fruit, pectin, and apple juice.  That's it!  They aren't overly sweet, and they are PERFECT on a peanut butter and jelly sandwich!  I also used them in my baked oatmeal bars and I couldn't resist trying out my PB & J bites with the Strawberries & Wild Strawberries spread.  Both were simply amazing.
You can find Fiordifrutta Organic Spreads online at places like Amazon, Vitacost, WalMart, Jet, or Thrive Market.  You can also use their store locator to see if any stores near you carry it.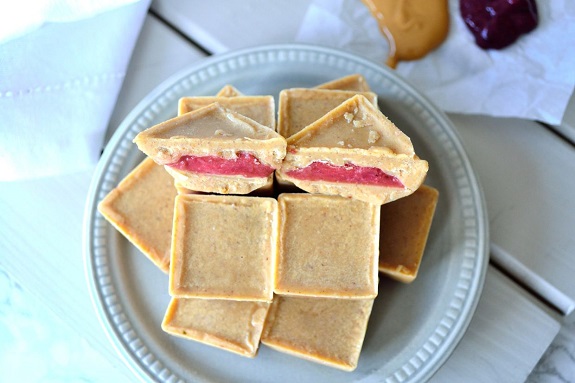 PB & J Bites
Ingredients
½ cup creamy peanut butter OR almond butter
½ cup coconut butter, NOT coconut oil
2 tbsp coconut oil
2-3 tbsp maple syrup
¼ cup Rigoni di Asiago Fiordifrutta spread, your favorite flavor
1 silicone mold or ice cube tray or mini muffin tin
Instructions
In a small saucepan, combine the peanut butter, coconut butter, coconut oil, and 2 tablespoons of maple syrup. Heat everything over medium heat and taste and adjust the level of sweetness as needed.
If you're using a mini muffin tin line it with paper cups. You don't have to do that if you're using a mold or ice cube tray. Take the peanut butter off the stove and let it cool for a minute. Then pour a small amount, no more than half a teaspoon, in the bottom of your molds or tins. Swirl it around so it coats the entire bottom. Place the tin or mold in the freezer for 5 minutes.
Remove from the freezer and add another half teaspoon of peanut butter to the bottom and freeze for another five minutes.
Remove again and add about 1 tsp of the Fiordifrutta to the mold or tin. Then top the spread with the rest of the peanut butter. Let the bites harden in the freezer for about 30 minutes.
Pop the bites out of the mold and eat right away or store in an airtight container in the fridge or freezer. Let the bites sit out for a few minutes before eating.