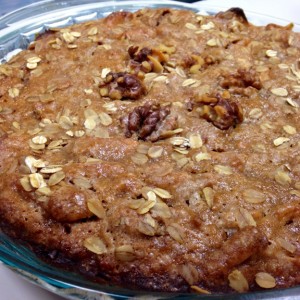 This One Bowl Apple Cake is super moist, rich and easy to make!
Ingredients
¾ cup applesauce
½ cup brown sugar
1/3 cup sugar
½ cup oil
6 small apples (I used Granny Smith, Gala or Fiji would be fine, too)
2 cups all purpose flour
2 tsp baking soda
1 tbs cinnamon
1tsp nutmeg
dash of ginger
dash of allspice
1tbs vanilla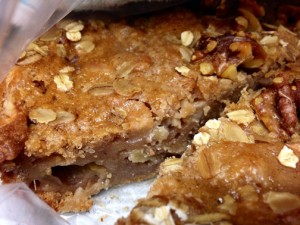 Directions
Preheat the oven to 350 degrees.
In a very large bowl mix the applesauce, sugar, spices, vanilla, and oil.
Meanwhile, peel and slice the apples and add to the mixture in the bowl. You'll want to keep coating them so they don't turn brown or just take half a lemon and squeeze some lemon juice over them while you're peeling and slicing the rest of the apples.
Stir in the baking soda and flour to the bowl.
Mix well until all of the flour is absorbed and everything is combined.
Pour in a pie pan or another greased round pan. 
Bake for about an hour or until the top is brown, has risen and is no longer soft in the middle. (Test that a toothpick comes out clean, to be sure.)
Let cool and serve!