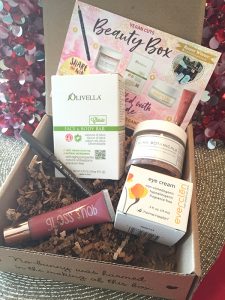 The holiday season is upon us, but it always feels like Christmas when my monthly Vegan Cuts Vegan Beauty Box arrives at my door!
The Vegan Cuts Vegan Beauty Box is a subscription service that delivers a box of beauty products to your door once a month. Each box contains 4 to 7 sample and full-sized products – everything in this month's box was full-sized! – that are vegan and cruelty-free. The products are always paraben free, and most of them made with natural ingredients.
Beauty boxes can a mix of cosmetics, skin care products, and personal care products, such as shampoo and conditioner or lip balm. They're perfect for chic vegan who want to try a new product without shelling out a lot of money, or for new vegans who are just discovering the world of vegan beauty.
The November Vegan Cuts Vegan Beauty Box was full of products that are perfect for both the cold weather and the holidays ahead.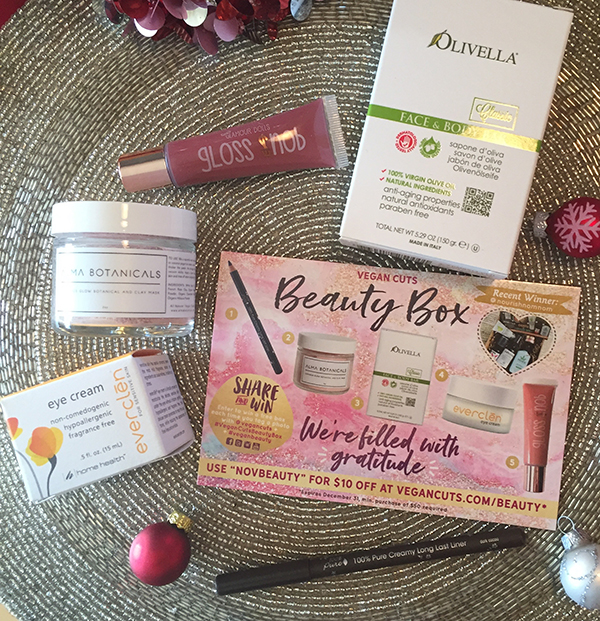 The November Vegan Cuts Vegan Beauty Box Contained: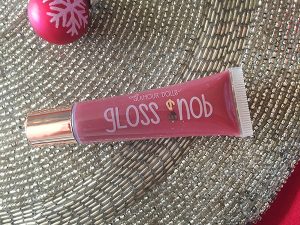 Glamour Dolls Gloss Snob– I used to be a lipstick girl, but at some point in the past few years I started favoring lip gloss, so I was excited to find this in this month's beauty box. I received the color "mood ring" which is a pinkish mauve color that's perfect for my complexion. This shiny gloss glides on smoothly and stays put for hours. I'll definitely be ordering more of it once I'm done with this tube.
100% Pure Long Last Liner – I received the color "dark cacao" which is a dark brown. I usually wear black liquid eyeliner, but I decided to give this a try. It glides on smoothly and doesn't run like other liners that I've tried, and it holds up to repeat sharpening. It's made with natural oils and waxes, because there's no reason to put chemicals next to your eyes.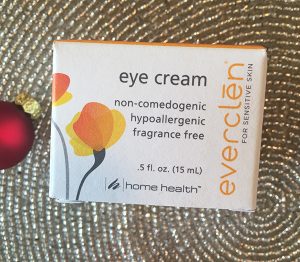 Everclēn Eye Cream – I've received Everclēn beauty products in past beauty boxes, and I've liked each one of them, so I knew I'd be a fan of this eye cream, as well. Their products are formulated for sensitive skin, and mine is super sensitive. I've actually had a hard time finding eye cream in the past, as some cause can cause painful (and very unflattering) pimples under my eyes. This lush cream gets two thumbs from me, though. It has a creamy, luxurious feel to it, and it helps to firm and tone the delicate skin around the eyes. I'll definitely be ordering more of this, as well.
Olivella Face & Body Bar– When opening the packaging, I could smell the soap's fresh, clean scent, and I instantly knew I would love it. It's made with just four ingredients – olive oil, water, glycerin (from olive oil), and fragrance – and it's perfect for everyday skin care. My skin tends to get dry during the cold months, and this soap has left my skin feeling soft and moisturized.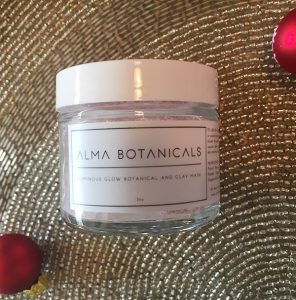 Alma Botanicals Luminous Glow Botanical and Clay Face Mask – This powdered mask is made with just five ingredients – white kaolin clay, French rose clay, organic rosehip powder, organic chamomile powder, and organic hibiscus powder. To use it, simply mix a small amount with water. It's formulated to soften skin while nourishing and enriching the complexion. It's been great on my sensitive skin, and much like the soap, it's helped out my dry, winter skin.
A Vegan Cuts Beauty Box subscription is the perfect holiday gift for the chic vegan in your life. Subscriptions are available for 3 months, 6 months, or a full year.
SaveSave
SaveSave
SaveSave
SaveSave