This satisfying cauliflower cutlets recipe makes sophisticated use of the humble cauliflower, giving it some serious wow factor! Easy to double or triple, this recipe makes a fancy weeknight main dish or elegant entrée for a party.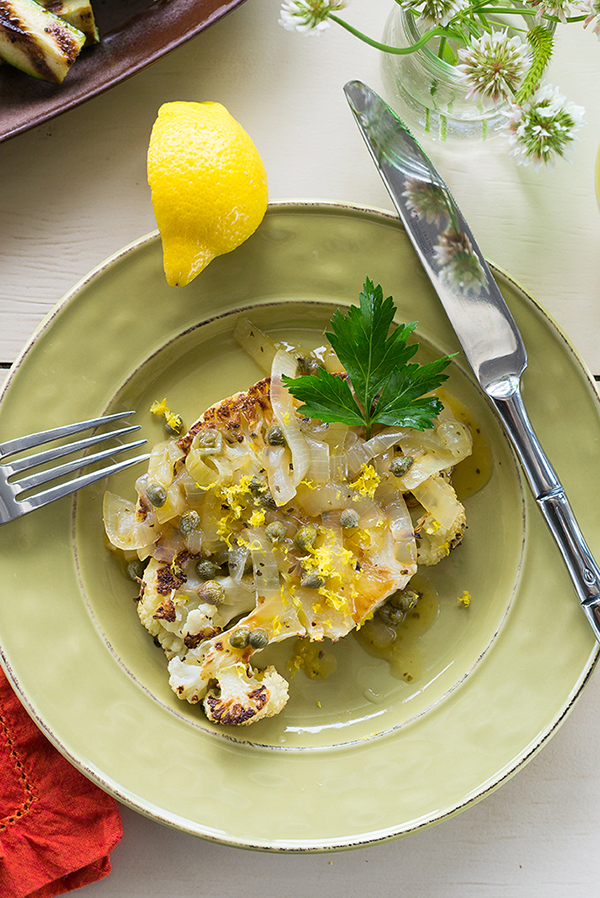 Roasted Cauliflower Cutlets with Lemon-Caper Sauce
Ingredients
1 medium head of cauliflower
2 tablespoons plus 1 teaspoon extra-virgin olive oil (see note)
1½ teaspoons Italian seasoning blend
¾ teaspoon garlic powder
1 medium sweet onion, thinly sliced
1 cup vegetable broth, plus more as needed
3 tablespoons freshly squeezed lemon juice (from about 1½ lemons; zest one of the lemons first, before squeezing)
2 tablespoons capers, drained and rinsed
Zest of one lemon, for garnish
2 tablespoons chopped fresh parsley for garnish (optional)
Instructions
Preheat the oven to 375 degrees F. Line a large, rimmed baking sheet with unbleached parchment paper.
Trim one to two inches off the two opposite sides of the cauliflower head, and set aside for another use. Cut the cauliflower head into four, ¾- to 1-inch thick "cutlets," as if slicing a loaf of bread. Arrange the cutlets in a single layer on the prepared baking sheet.
Put 2 tablespoons extra-virgin olive oil, 1 teaspoon Italian seasoning and 1⁄2 teaspoon garlic powder in a small bowl and whisk to combine. Liberally spread one-quarter of the seasoning mixture over the top of each cutlet, using a small pastry brush or back of a small spoon. Bake for 35 to 40 minutes, or until tender and slightly golden brown around the edges.
To make the sauce, put the onion and 1⁄2 cup vegetable broth in a large skillet. Cover and cook over medium-low heat for 7 to 10 minutes, or until the onion has softened. Add 1⁄2 teaspoon Italian seasoning blend, 1⁄4 teaspoon garlic powder and another 1⁄2 cup vegetable broth, cover and cook, stirring occasionally, for 10 minutes. If the onions become dry, add more broth, 2 tablespoons at a time. Stir in 1 teaspoon olive oil, lemon juice and capers. Cover and cook, stirring occasionally, for about 2 minutes, or until the capers are heated through.
To serve, put each cutlet on a dinner plate and spoon one-quarter of the onion-caper sauce over each cutlet. Garnish with lemon zest and parsley. Serve warm.