When Becky Striepe released her e-book 40 Days of Green Smoothies several years ago, she had no idea how popular it would become. Many fans have asked for a print version of the book, and Becky is happy to give it to them!
40 Days of Green Smoothies is a six-week program designed to develop your green smoothie habit. The ingredients aren't always what you'd expect – discover how avocado can help make a smoothie creamy and how chocolate can turn it into a decadent yet healthy treat. The book is chock-full of simple and affordable smoothie recipes.
Becky breaks the 40 days down week by week, with each week offering its own set of tips and shopping lists. 40 Days of Green Smoothies is the perfect book for those who want to start a daily green smoothie routine or anyone who just wants to amp up their fruit and vegetable intake.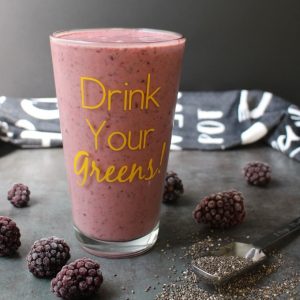 Becky is currently running a Kickstarter campaign to make the print version of 40 Days of Green Smoothies a reality. Pledge incentives include copies of the book as well as a Drink Your Greens pint glass that she designed exclusively for the Kickstarter campaign. To view the campaign, visit http://tinyurl.com/kickstartgreensmoothies
Becky Striepe is a vegan food writer from Atlanta, Georgia, with a passion for making our planet a healthier, happier, and more compassionate place to live. Her mission is to make vegan food everyone! Becky is the creator of the popular blog Glue & Glitter, as well as the author of Bowls! and 40 Days of Green Smoothies.