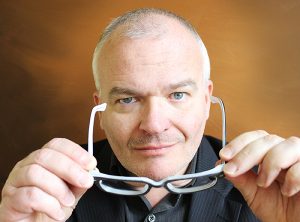 Eric C. Lindstrom is the editor of the Meaty Vegan blog, which features vegan opinion, recipes, and cutting-edge satire, and the founder of the vegan design and marketing firm ThankTank Creative. Today, he thrives on plant-based foods along with his vegan wife, vegan dog, and two vegan babies in Ithaca, New York.
Chic Vegan: Tell me a little bit about your book The Skeptical Vegan and what inspired you write it.
Eric Lindstrom: The Skeptical Vegan is the book based on the blog based on the bet. When I went vegan it was overnight. My wife, a vegetarian with lactose-intolerance-denial syndrome, challenged me to go vegan with Colleen Patrick Goudreau's "30-Day Vegan Challenge." I was the most notorious meat-eater at the time but was also up for a good challenge. After thirty, very memorable, days I counter-challenged her with a bet to stay vegan. Almost seven years later this is still the bet I refuse to lose.
Right after going vegan I started my popular vegan food blog MeatyVegan.com and my publisher found it when trying to find the next "Main Street Vegan" meets "Thug Kitchen." A year later my first book is released and I now have a deal for my follow-up "Mind Your Peas and Cukes: A Guide to Raising Vegan Kids."
CV: What difficulties did you face as a new vegan?
EL: Since my first year as a vegan was entirely based on a bet, I kept thinking my wife was going to cave and start eating cheese. So, the initial difficulties were giving up all the foods that I loved: chicken wings, pepperoni pizza, and sausage, biscuits, and gravy. The real struggle was facing these foods on a regular basis; in real-life and through mainstream media. There were a few times I thought I would give up, especially while travelling, but I stuck to it and now I'm an ethical vegan who would never consider turning back.
CV: You went vegan because of a bet with your wife. Was there an a-ha moment that made veganism stick for you?
EL: Two things I think made veganism "stick" for me. The first was realizing that I wasn't going to starve to death and that all the old foods I once indulged in were available in a vegan version. Beyond Meat played a pretty big role in this tipping point and today there are TOO many amazing vegan options of the old foods I used to eat.
The second moment was making "the connection." This is where the rubber hit the road. When I hear about people dipping their toe into going vegan, I ask them to give it time and hope that they make the connection. Animals are not food. They simply are not. Once I realized this, I knew there was no turning back.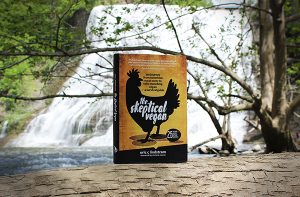 CV: Do you still consider yourself to be a "skeptical" vegan?
EL: I am SO far from being the reluctant or skeptical vegan now. Being vegan has become my entire identity. Aside from never again wanting to consume meat, dairy, or eggs, I can't ever imagine abandoning my new-found family. When I read about celebrities who are "no longer vegan" I can honestly say they never were vegan. Vegan for life is the only way to live.
CV: When people learn that you are vegan, what is the first question they ask and what is your response?
EL: When people learn I'm vegan, they usually just ask "why?" And then they size up my 215-pound frame and say "really?" I answer with "because animals are not food and there are a million french fries out there with my name on them."
CV: You and your wife are raising your children vegan. What challenges do you face as a vegan parent?
EL: My new book "The Skeptical Vegan" (Skyhorse Publishing) opened the door to my next book "Mind Your Peas and Cukes: A Guide to Raising Vegan Kids." We have two under four who have been vegan since birth and it's fascinating, and inspiring, to see how they've taken on the roles of young activists and have embraced a vegan diet. The know animals aren't food and are the only kids in their class who willingly eat all their veggies.
CV: What would you cook for a dinner party of die-hard meat-eaters?
EL: I go two ways when trying to impress omnivores with a vegan dinner. One is more "traditional" as I unleash my Italian upbringing to make lasagna, garlic bread, Caesar salad, and tiramisu. All vegan. People are amazed that Italian food translates so well to vegan. The other direction is fried everything. Vegan "chicken" wings, fries, potato skins, "mozzarella" sticks. Dip those into all the marinara and ranch dressing you can buy and they're NOT going to miss the animals.
CV: What is your favorite vegan indulgence?
EL: I have a chapter dedicated to the potato. I think all the marvelous ways a potato can sustain life are many of the indulgences I still indulge in. We also have vegan pizza night every Friday where I make a homemade gluten-free, vegan crust and load the top with veggies and vegan cheese. Feels less like an indulgence and more like a meal.
CV: What vegan product could you not live without?
EL: Some of my ingredients are now vegan clichés: nooch and tofu. We make scrambles all the time and sometimes wrap them up with some cheese into a brown rice wrapper. Of course, none of this makes any sense unless you dip it into Just Mayo. Final answer? Just Mayo.
CV: In your wildest dreams what will your life look like in 5 years?
EL: I've always thought that the concept of a middle-aged man going vegan would make an excellent reality show. Kind of a "Queer Eye for the Straight Guy" meets "Hell's Kitchen." Get people around the country to put that 250-pound man up for the challenge and then follow them for 30-days while they navigate being vegan. I think they would soon discover the benefits to their health, the environment, and the animals. I'd like my name to be on this TV show and I've like the show to be called "The Skeptical Vegan."