I really missed my mayo – that kind of thick and smooth goodness I used to make yummy salad dressings, decadent sauces, and all sorts of different creamy salads with.
Sure there are new vegan mayonnaises on the market, but have you seen the price tags on them? I knew there was a better way. I tried and tried to make it myself, and I finally came up with the solution — artichokes!
Artichoke-naise gives you all the thick, smooth mayo  umami goodness in a much healthier incarnation. Here is how you, too, can have a healthified version of what is traditionally a very unhealthy (but oohh so tasty) food.
Artichoke-naise
A tall Ball Jar with lid  (it holds a bit more than 2 cups)
An immersion blender
A bowl
Tablespoon
Teaspoon
1 can of artichoke hearts
1 cup of olive oil, divided (broken out into a 1/4 cup and a 3/4 cup portion)
2 tablespoons of cider vinegar
1 tablespoon brown rice miso
dash liquid smoke
1 teaspoon lecithin
 2 tablespoons flax seed mixed with approx 4 tablespoons water to make a "flax egg" (You can also use chia seeds to make "chia egg" replacement.)
This goes really fast, so make sure that you have all your ingredients ready and within in arms reach.
How You'll Do It:
1. Open and drain the can of artichoke hearts, and dump the artichokes into the jar. Add the 1/4 cup of olive oil.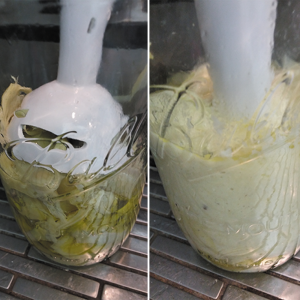 2. Hold onto the jar securely and put the immersion blender into the jar with the artichokes and oil. PULSE, PULSE, PULSE until it starts to  blend and begins to emulsify. Once it starts to become smooth, let the immersion blender run for approximately 30 seconds, bringing the immersion blender up and down in the jar to thoroughly blend the artichokes and oil together. Remove the immersion blender from the jar carefully and place it in an empty bowl.
3. Now add the "flax egg", lecithin, vinegar, miso, and 3/4 cup olive oil to the jar.
4. Hold the jar securely and place the immersion blender carefully all the way down into the mix (which at this point honestly will not look too good but have faith!). Again PULSE, PULSE, PULSE until things start to come together. Once it begins to start looking like "mayo" then let it run, bringing the immersion blender up and down in the ball jar to make sure that everything is well incorporated.
Once you are happy with the consistency and that it is "mayo-like" you have a choice – you can either stop here or you can add some flavoring components and blend a bit more.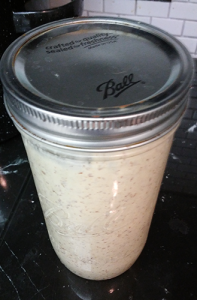 How You Can Flavor- Up Your Artichoke-naise:
Use your Artichoke-naise just like mayo to make salad dressings, sauces, faux tuna or faux egg salads, etc.
Take your big 2+ cup batch and use a few tablespoons to mix up different flavored mini-batches.
Here are a few ideas on spices you can add:
Mustard/dill
Siracha/hot sauce  for a "hot wing" type mayo
Curry powder
Basil and rosemary
Ketchup or tomato paste, relish, mustard to make Russian dressing
A dash of soy sauce and sesame oil for a more Asian style dressing
The possibilities are really endless!
A few notes: Using olive oil gives you a very "olive oily" flavor. If you want a more neutral taste you can use avocado oil or safflower oil.  The flax will be visible, but hey, think of all that flax goodness you are getting! Enjoy!