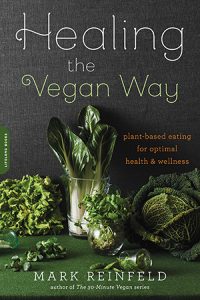 I am absolutely delighted to tell you about the new book, Healing the Vegan Way, by one of my favorite vegan chefs on the planet, Mark Reinfeld.
Mark is a widely acclaimed and multi-award winning chef and author of seven books. He has an impressive list of accomplishments including Executive Chef for North American Vegetarian Society's Vegetarian Summerfest, and he has offered consulting services for clients such as Google, Whole Foods, Bon Appetit Management, The Peninsula Spa and more. Mark was the founding chef of The Blossoming Lotus Restaurant in Kaua'i, which was voted "Best Restaurant on Kauai.". Mark also teaches amazing cooking classes throughout the world with his company Vegan Fusion. In addition to the great classes he provides through Vegan Fusion, he trains instructors to be part of his team, teach classes themselves and spread the message of compassion, health and healing. For more information on these great services and where you can find a class near you, please visit www.veganfusion.com.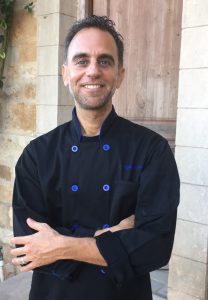 I love Mark because he and I share a very similar mission through our work: helping people learn about foods that heal and making them into beautiful and incredibly appealing dishes. Mark's recipes are some of the most diverse, creative and artistic I've ever seen and tasted. He blends flavors from all over the world, hence the name, Vegan Fusion.
I asked him to tell us why he wrote Healing the Vegan Way: "For as long as I can remember I have been interested in the healing qualities of foods. I wanted to demonstrate that plants have the power to heal and transform our lives and that many of the major health challenges facing society can be prevented and reversed by adopting more of a plant-based diet."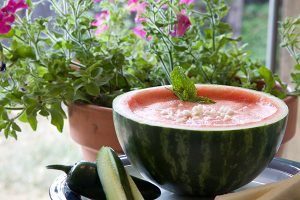 In Healing The Vegan Way, Mark has combined information from the world's leading medical professionals like Michael Klaper, MD,  Michael Greger, MD, Joel Kahn, MD, Brenda Davis, RD, Julieanna Hever, MS, RD, along with information about the healing properties of plant based foods and his some of best healing raw and cooked recipes. By providing all you need to know cook delicious, healthy vegan meals including 200 simple whole-food recipes, health-supportive cleanses, menu plans, and more, Mark helps you get the most out of your food and lead your most vibrant, happy and healthy life.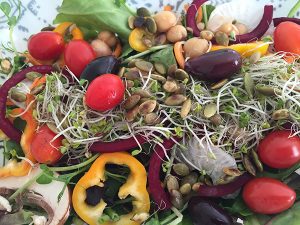 Mark is not only a super sweet guy with a wealth of knowledge, he's also incredibly funny and both his classes and cookbooks are very entertaining! Whether you take a class from him or just read his books, you will not be disappointed. Just a few of the incredible dishes with super healing properties you will enjoy in Healing The Vegan Way include; Vegan Cheeses and Dips, Watermelon Gazpacho, Healing Broth, Maple Baked Tempeh, Cauliflower Steaks, Grilled Eggplant Towers with Cashew Ricotta, tons of salads and other mains, numerous healing drinks, juices and smoothies and healthy desserts.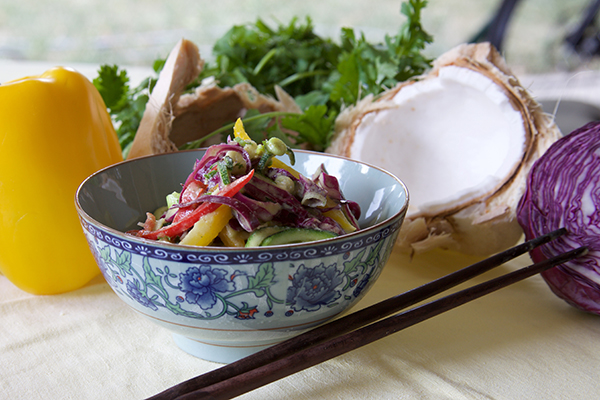 Raw Coconut Curry Vegetables
Yield: 4 cups vegetables
Prep time: 30 minutes, Total time: 30 minutes
Serving size: 1 cup | Number of servings: 4
Curries, staples of Indian cuisine, are often cooked. This raw version gives you the wonderful warm flavor of curry with the juiciness and crunch of raw vegetables and sprouts. Curry is a blend of ground spices, including cayenne or red pepper, coriander, cumin, and turmeric. Turmeric provides the signature golden color along with many of the healing benefits. Low in fat, sugar, and sodium, curry itself is a great source of vitamin B6, folate, calcium, magnesium, phosphorus, potassium, and copper, and a very good source of dietary fiber, vitamin E (alpha tocopherol), vitamin K, iron, and manganese. A superior way to enjoy an enzyme-rich and satisfying raw veggie meal. Enjoy as part of a raw feast with raw nori rolls or raw chocolate pudding.
Ingredients:
2 to 3 medium-size zucchini, spiralized (4 cups tightly packed)
1 cup tightly packed julienned red cabbage
1 medium-size red bell pepper, seeded and julienned
1 tablespoon freshly squeezed lime juice
2 teaspoons wheat-free tamari or other soy sauce, or coconut aminos (optional)
1 cup Raw Coconut Curry Sauce (see recipe)
¼ cup thinly sliced green onion
¼ cup mung bean sprouts (optional)
1 tablespoon finely chopped fresh cilantro
¼ cup raw peanuts (optional)
Directions:
Combine the zucchini, red cabbage, and bell pepper in a bowl. Add the lime juice, and tamari, if using. Add the Raw Coconut Curry Sauce and toss well. Portion out into four bowls, or leave in one bowl and serve family style.
Top with the green onion, mung bean sprouts, if using, cilantro, and peanuts, if using. Have fun!
Variations: add other veggies, such as julienned yellow bell pepper, carrot, or beet. Add 1 cup of raw kelp noodles (see page 87). Add 1 cup of julienned medium-soft coco-nut meat.
Raw Coconut Curry Sauce
Yield: 2 cups sauce
Prep time: 10 minutes, Total time: 10 minutes,
Serving size: 1/4 cup | Number of servings: 8
Experience a hint of the tropics in this raw version of a coconut curry. Curry powder provides the dominant flavor with the spices turmeric, cumin, and coriander. Low on carb and high on fiber, coconut meat helps you metabolize both protein and fat due to its whopping manganese content. Serve with Raw Coconut Curry Vegetables or even as a dipping sauce.
Ingredients:
¾ cup medium-soft fresh coconut meat
1 ½ cups coconut water
1 tablespoon plus 1 teaspoon fresh ginger
2 tablespoons freshly squeezed lime juice
1 tablespoon raw almond butter
1 tablespoon finely chopped fresh cilantro
1 ½ teaspoons curry powder
1 teaspoon seeded and diced jalapeño pepper
1 teaspoon coconut aminos, wheat-free tamari, or other soy sauce
½ teaspoon tamarind paste
¼ teaspoon sea salt, or to taste
¼ teaspoon ground cumin
Directions:
Place all the ingredients in a blender and blend well.
Variations: Replace the coconut meat and ½ cup of coconut water with 1 cup of coconut milk. Replace the almond butter with peanut butter.
Excerpted from Healing the Vegan Way: plant-based eating for optimal health and wellness by Mark Reinfeld. Copyright © 2016. Available from Da Capo Press | Lifelong Books, an imprint of Perseus Books, LLC, a subsidiary of Hachette Book Group, Inc.
We have a copy of Healing the Vegan Way by Mark Reinfeld for one lucky winner. Follow the instructions below to enter. U.S. residents only, please. Contest ends at midnight eastern time on August 4th. Good luck!
a Rafflecopter giveaway

Mark Reinfeld photo by Megan Sorel
Raw Coconut Curry Veggies and Watermelon Gazpacho photos by Erik Rudolph
Superfood Sprout Salad photo by Mark Reinfeld