One of the many things I love about all of the Happy Herbivore cookbooks is that they typically utilize easy to find ingredients, many of which you probably already have in your pantry.  All of the recipes in Lindsay Nixon's latest book, Happy Herbivore Light and Lean, are easy, healthy, plant-based, and take 30 minutes or less to prepare. Here is my brief interview with the author about this cookbook: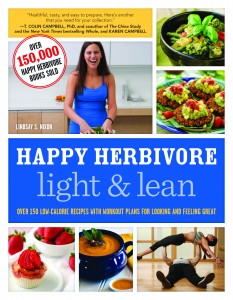 Chic Vegan: How do you think your cookbooks have evolved since your first one, The Happy Herbivore Cookbook? Lindsay Nixon: Each book has its own theme, usually reflective of that period in my life. I suppose we evolve together 🙂
CV:  Obviously you are known for super healthy, delicious and fast meals.  Which of the recipes in Happy Herbivore Light & Lean would you consider to be the fastest/ easiest of the bunch?  (I know this is a hard one!) LN: All of the recipes are healthy, fast and delicious 🙂 Most of them only take a few minutes to make. 
CV: What does a "typical" day of eating look like for you right now (breakfast, lunch, dinner and snacks)? LN: I follow my meal plans (http://www.getmealplans.com) 
CV: In addition to your regular nutrition advice, are there any tips on prenatal and post natal nutrition that you could share? LN: I'm not a doctor and I've never been pregnant so I know very little about this topic. 

CV: I love that you included exercise in this book, as a pregnant vegan, which of the exercises would you recommend for prenatal fitness in particular?  Any that you would avoid? LN: Congrats on the bebe! I would encourage speaking with your doctor about what you can (or cannot) do at all the stages of pregnancy with regards to physical activity and fitness. 
Thanks Lindsay! Okay, onto the cooking!
I have also found that like with all of the Happy Herbivore cookbooks, even when you don't have all the ingredients for a recipe, or you can't find them in your supermarket, they are usually easy to substitute. 
Case in point, I literally just moved across the country from Austin, TX to Long Island, NY  last week, and found myself with an empty pantry as I had used up or given away most of my pantry supplies before moving.  Thus, I felt a bit like a new vegan again, starting a new pantry from scratch.  But no worry, I figured I would pick a few recipes to try out from the new Happy Herbivore Light and Lean cookbook, which would help me to get acclimated to cooking in my new house and shopping in my new supermarket.  (Miss you Whole Foods Lamar!!) 
Anyway, while shopping for the ingredients to make the Soba Peanut Noodles I couldn't find buckwheat noodles or the plain vegan yogurt at my Stop & Shop.  Now before you feel too sorry for me, I could have made an extra trip to Whole Foods here, but didn't have the time or $$$ for a second grocery trip.  The recipe says you can substitute spaghetti for soba noodles, but I decided on rice noodles since my husband and I love them, and the I just omitted the soy yogurt and added a little extra of the other liquid ingredients to make up for it and hoped for the best.   In addition, I made a giant salad to serve the dish on top of and mixed in steamed broccoli and edamame for extra low calorie density bulk and an extra pop of protein.   I also quadrupled the whole recipe to have plenty of leftovers for a few days. 
I have to say this dish was amazeballs.  Even my omnivore husband, who has been known to refer to various vegan dishes I have made in the past as "scoop the goop" LOVED this dish and asked when I could make it again.  The publisher of this fabulous cookbook have graciously given permission for me to share this information with all of you fabulous chicvegan.com readers, so here goes: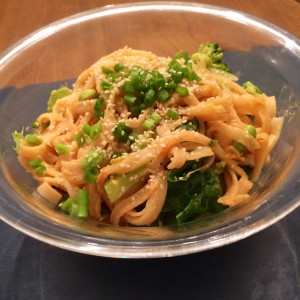 Soba Peanut Noodles
Serves 2
Gluten-free, Quick, Budget
All the taste you love in creamy peanut noodles but with less fat and calories thanks to a surprise ingredient: vegan yogurt! I call this a "cheater" recipe since I use a dab of peanut butter, but it's still light compared to most peanut noodle recipes.
Ingredients:
4 oz buckwheat noodles (could sub spaghetti)
2 green onions, sliced
cubed tofu or edamame (optional)
vegetables, like broccoli or cucumber (optional)
Creamy Peanut Sauce
2 tbsp plain vegan yogurt
1 tbsp smooth peanut butter
1 tbsp sweet red chili sauce
few dashes garlic powder
few dashes ground ginger
1 tbsp rice vinegar
1–2 tsp low-sodium soy sauce or gluten-free tamari
Asian hot sauce (e.g., Sriracha; optional)
Preparation:
Cook noodles according to package instructions, rinse under cold water in a colander, and chill in the fridge for a few minutes if you can. Meanwhile, whisk peanut sauce ingredients together. Taste, adding more soy sauce or tamari, garlic, onion, or hot sauce as desired. Toss noodles with sauce, then stir in green onion, tofu or edamame if using, and vegetables, if using.
Chef's Note: Despite having "wheat" in the name, buckwheat flour is completely gluten-free. Just make sure your noodles are 100% buckwheat if you have an allergy or sensitivity.
Per serving
Calories . . . . . . . . . . . . . . .274
Fat. . . . . . . . . . . . . . . . . . . . 6g
Carbs . . . . . . . . . . . . . . . 47.5g
Fiber. . . . . . . . . . . . . . . . .6.6g
Sugars. . . . . . . . . . . . . . . . 6.7g
Protein. . . . . . . . . . . . . . 10.4g
WW Points. . . . . . . . . . . . . . 7
Another cool thing about this cookbook are the "recipes" for your body in the back with some of Lindsay Nixon's favorite workouts.  Overall, I am loving this cookbook- I have also made the Skinny Mac n' Cheese and the Chipotle Harvest Chili, which were wonderful as well.  (Personally I like to drizzle a little siracha over both, yum.)  I highly recommend this cookbook, I think you (and anyone else you cook for) will love it.