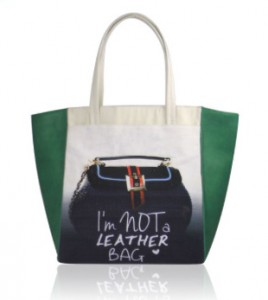 While I do like clothes and shoes, I don't really consider myself a follower of fashion, and I have no idea what the latest trends are. (I realize that's a bad thing for someone who runs a website called Chic Vegan to admit, but I didn't name the site!) I know what I like though, and I love gorgeous GUNAS vegan handbags!
GUNAS was started in 2008 by designer and animal lover Sugandh G. Agrawal. Sugandh spent seven years working as industrial designer at KitchenAid before she left the corporate world to start her own company of cruelty-free fashion. Her mission was strong and clear: animals are not to be part of fashion. After an intensive year researching fabrics, best leather alternatives, and ethical manufacturing Sugandh started production, and GUNAS was launched in launched in the winter of 2009 with a collection of just eight bags. The company has being growing and evolving ever since, and they now have many handbags to choose from. While they do not produce seasonal collections because they believe that overproduction and overconsumption are the main causes of the environment's downfall, they do add new styles to their standard collection from time to time.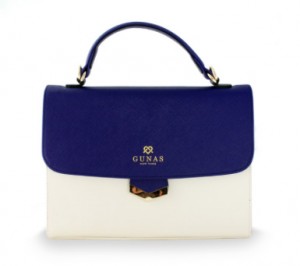 In 2012 the Ethical Fashion Forum in London, UK awarded GUNAS for being the best handbag brand in the category of ethics and cruelty-free. Just a few weeks ago, Sugandh won the 2015 Independent Designer Handbag Award for Best Green Bag, a competition that featured 10,000 applicants from over 100 countries. This is a huge victory not only for GUNAS, but for the vegan fashion industry in general.
The GUNAS logo is a "Knot of infinite Love", which symbolizes their love for animals, nature and the people that make their bags. How wonderful is that?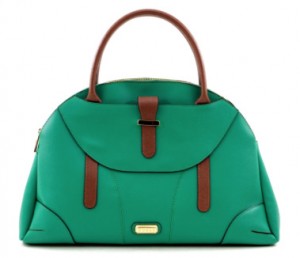 GUNAS sent me their green and tan Monarch bag, which is very chic indeed. The bag features a large interior pouch that's flanked by two large zippered pouches, one of which has a small zippered pocket. There's a small pocked in the front that's perfect for housing your cell phone, keys, or metro card (for those of you who commute). It has two handles for carrying, but it also comes with a detachable shoulder strap. This bag is named after the monarch butterfly, and it does resemble a butterfly when opened. I've had expensive bags fall apart after just a few weeks of use, but it's evident that this bag is build to last and I know I'll be carrying it around for years to come. The Monarch his also available in tangerine, tan ostrich, sky and sand, ivory and tan, and classic black.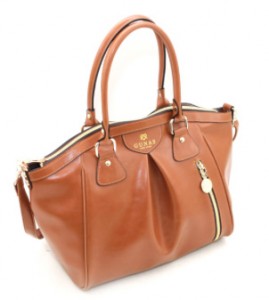 See the Monarch bag and the rest of the GUNAS vegan handbag collection on their website: www.gunasthebrand.com