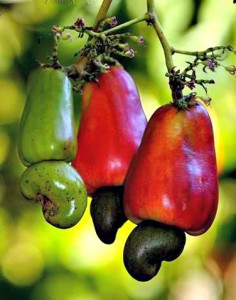 Most of us have seen cashew nuts in the grocery store: those pale white kidney shaped nuts. In scientific terms, cashews are called anacardium occidentale. They are from the same family as pistachios and mango, but unlike pistachios where we find them with a shell on in the grocery store, most of us have not seen a cashew with the shell on. They almost always come to us unshelled. The reason is because the inside of the cashew shell contains a poisonous resin, called cashew balm that has to be removed before the nut can be eaten. The balm is removed and is used as a varnish and as an insecticide.
The cashew nut actually comes from a fruit called the cashew apple which grows on the cashew tree. The cashew apple is quite an interesting site to see. The cashew apple looks like an inverted heart-shaped fruit. It hangs from the cashew tree and the cashew nut is encased in a shell which is actually attached to the bottom of the fruit, just outside of the fruit. Most nuts are inside the fruit itself, but not in the case of the cashew nut.
The cashew tree was native only to South America, but over the last few centuries, it has travelled all over the world, brought by European travelers. The Portuguese first brought the fruit to India and to Africa in the 16th century. But its true popularity only emerged in the 20th century. Today, only 5 countries are the leading producers of cashews: India, Brazil, Mozambique, Tanzania and Nigeria.
FACTS YOU MAY NOT KNOW ABOUT CASHEW NUTS:
Cashew nuts contain 75% mono-unsaturated fatty acids; of which, 75% is oleic acid, which is the same fat found in olive oil.
Cashews have a naturally occurring phytochemical called anacardic acid. This is a type of fatty acid or lipid that has anti-inflammatory properties. Studies done with anacardic acid show it to have anti-cancer properties as well, especially in breast cancer, prostate cancer, and in pituitary tumors. Anacardic acid also has anti-bacterial properties and is used to treat some types of tooth abscesses caused by specific types of bacteria.
Cashew nuts also are high in proanthocyanidins, a type of polyphenols, which are anti-oxidants. The polyphenols scavenge free radicals, which helps to stop cancer cells from dividing. In a recent article published in March 2011 (called "Effect of Roasting on Phenolic Content and Anti-oxidant activities of whole cashew nuts, kernels and testa" by Chandrasekara N, Shahidi F at the Memorial University of New Foundland, in Canada), the researchers found that roasting actually enhances the antioxidant activity of cashew nuts. If you are planning on roasting your cashews, they should not be overheated, since this would destroy these healthy oils. They should be roasted at 160-170 degrees F (75 degrees C) for 15-20 minutes only.
 Cashews also contain: copper, manganese, tryptophan, magnesium, and phosphorous. All of these protect the heart, bones, blood vessels, and the brain.
When buy cashew nuts make sure to store them in a sealed container in the refrigerator. They will stay for 6 months in the fridge and for 12 months in the freezer. Cashew butter should always be refrigerated.
Since cashew nuts don't have a distinct taste, you can grind them up and sprinkle them onto most anything. Or you can grind them, add water to them and make it into a paste to add to any meal. It's a great way to add a super food into your diet, and you won't even notice it!